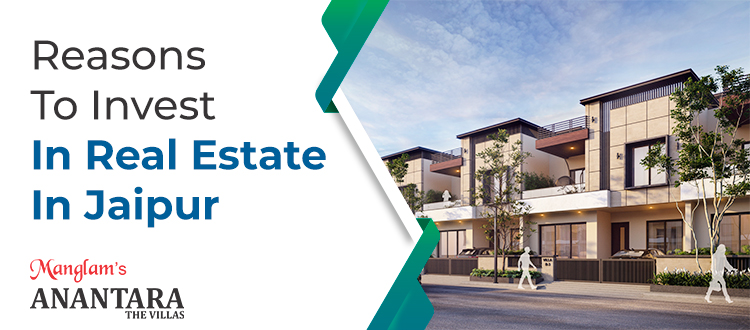 Reasons To Invest In Real Estate In Jaipur
The capital city of Rajasthan, Jaipur, popularly known as the Pink City has seen rapid development in the real-estate sector in recent years. It is one of the most rapidly developing cities with an enormous rate of development in infrastructures. The city is not just known for its beautiful heritage, gems, and jewellery but also for amazing residential and commercial properties. It is a great time for property buyers to invest in properties like villas in Jaipur.
There are some reasons why Jaipur is such a great choice for investment. They are mentioned below.
Incredible Economic Growth and Employment
Jaipur is one of the most sought cities for investment purposes. The main reason that backs this fact is the enormous rate of growth the city witnesses. Not only is the city proposing newer investment opportunities, but also business and employment prospects.
Rich in Culture And Traditions
One of the best things about investing in a villa in Jaipur is the diverse culture and tradition you are going to experience. Jaipur is a land of culture. From different festivals to historical traditional heritage, Jaipur indeed offers a treat to the senses.
World-Class Social Infrastructures
Jaipur not only is rich in culture but world-class infrastructures too. Jaipur has access to some of the top-notch hospitals, educational institutes, and companies. Jaipur is home to some of the top IT companies, major infrastructures and also is attracting attention for a lot of investment.
Lifestyle Amenities and Connectivity
From beautifully well-connected roads, metros, railways to airports, Jaipur has an elaborate network for convenient connectivity for the residents. There are multiple reputed schools, colleges, restaurants, shopping malls, post offices, international airports, etc. in Jaipur. Jaipur offers everything one needs to live a life grand with convenience.
Commercial and Residential Projects
Not only residential villas in Ajmer Road but Jaipur is home to multiple commercial and residential projects by reputed developers like Manglam Group. One can pick a property for investment from multiple choices available. To be correct, Jaipur has something to offer for everyone.
If you decide to invest in a property in Jaipur, you can consider Manglam Anantara. They offer beautiful 4 BHK villas on Ajmer Road that are equipped with high-end amenities that easily add convenience to the life of residents. The villas on Ajmer Road are great in all terms as they are set to offer luxury lifestyles to residents surrounded by lush greens with a promise of great investment returns.