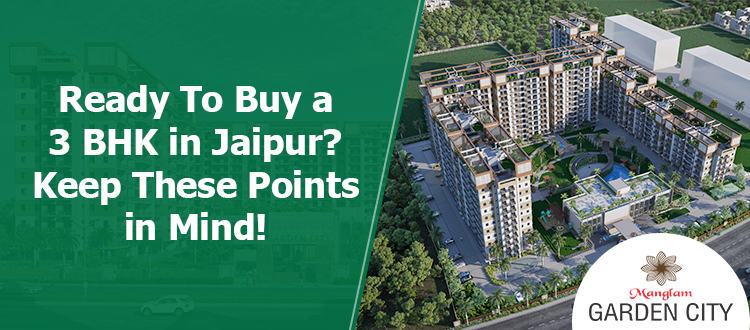 Ready To Buy a 3 BHK in Jaipur? Keep These Points in Mind!
Property investments are one of the safest and most promising investments in India. With the growth of residential project demands, real estate has gained momentum and is the top priority of investment for everyone who has some extra money to invest in hand. Without a doubt, the flats in Jaipur are considered the safest option with high security and greater returns.
However, before making any investment decision, one needs to keep certain factors in mind to make a secure and safe investment which include the following factors:
Location
If you are planning to invest your hard-earned money into an acquisition, location is a key factor to look into. Location not only determines the convenience through connectivity and services available nearby but also the rate of value appreciation in the future.
Approvals
The 3 BHK apartment in Mansarovar Jaipur by the Manglam Garden City is duly approved by RERA and all the other important authorities with all the documents at the place. With proper documentation and legalities check, residents won't ever have to face any discrepancies and disputes.
Reputation of Developer
Before investing your hard-earned money into any project, make sure that the developer you chose is a reputed one with no unlawful records. One must always go for a reputed developer to lower the chances of any fraud and delay in property acquisition.
Finances and Home Loans
If you are considering buying a 3 BHK in Jaipur, money is one of the important factors to consider. You should have a clear idea of the sources for financing your property purchase. In the case of a home loan, you must be aware of the payment plan or conditions of the developers.
Along with an intensive financial decision, property investment also involves the emotion of the buyers. Thus, one makes an informed decision while investing their hard-earned money in any property.
Manglam Garden City is a beautiful apartment project that offers well-developed and designed 3 BHK flats in Jaipur that perfectly aid a lifestyle advancement along with filling the lives of residents with opulence. Investing in one such property can be the perfect decision for your future.