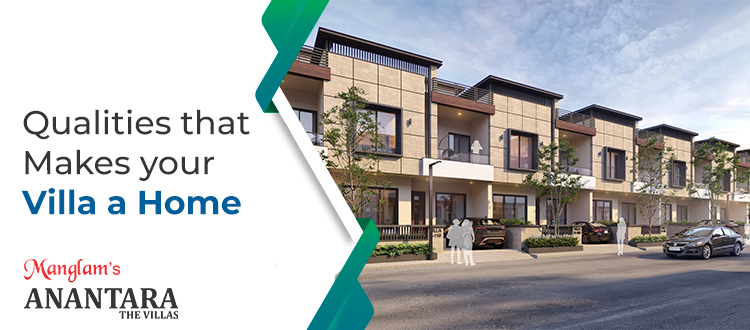 Qualities that Makes your Villa a Home
House connotes more than simply a place to sleep; it is a sense of comfort and safety. To add to that, it has to be tailored to your specific requirements so that you and your loved ones may enjoy a life of contentment and ease there. The features of a perfect Luxury villa in Jaipur are context-specific. It may be the house's layout that is most important to one person, while the house's strategic placement may be the most important factor to another. The hallmark of a skilled builder is the ability to listen to the needs of their clientele and create a bespoke home that is a perfect fit.
These are some of the principles that Manglam Group used while developing Manglam Anantara.
The villa should have plenty of windows and ventilation
A home with strong air circulation is a nice place to live since it attracts positive energy. Homeowners and renters both benefit from living in a bright, airy space with lots of windows and fresh air. Air circulation is crucial for several reasons. Not only does it help eliminate unpleasant odours and keep the house smelling fresh, but it also keeps the floors, ceilings, walls, and furniture dry by controlling excess moisture.
Ergonomic design must be a priority when creating indoor spaces
Ergonomic design and efficient use of space are two of the most crucial features of a comfortable home. As a result, everyone in the household may have some time for themselves.
High-grade building supplies should be utilised
A well-built home is not only one of the greatest financial expenditures but also a significant emotional milestone, thus only high-quality raw materials must be used in housing projects to ensure that excellent dwelling solutions are supplied to customers. Developers with a stellar reputation, like Mangalam Anantara, are recognised for selecting only the highest quality materials in the construction of 4 BHK luxury villas in Jaipur.
It's recommended that ceilings be between 10 and 12 feet in height
If you want to preserve the artificial ceilings but still provide the impression of a spacious space, a higher ceiling is the way to go.
There has to be room for a dining table and a couch in the living areas
The living room is one of the most vital parts of any house. The living room is where most families spend their time together, so its layout and design should be thoughtfully planned to maximise comfort and enjoyment. Because the dining area of the average apartment is situated in the living room, the ideal dwelling should have sufficient room for both the dining table and the couches.
Space in the kitchen is essential
The kitchen, being one of the most used rooms in the home, requires enough space for utensils, appliances, and other culinary necessities. A proficient programmer can design an efficient kitchen layout.
It is expected that high-quality fixtures would be used by any reputable builder. High-quality locks, shower heads, and other bathroom fixtures are essential. Furthermore, fixtures like those indicated above may add a touch of uniqueness to the interiors and give the home an air of exclusivity.You will find the best 4 BHK Luxury Villas in Jaipur at Manglam Anantara that have everything you're looking for, whether you're in the market for a piece of land or a villa.