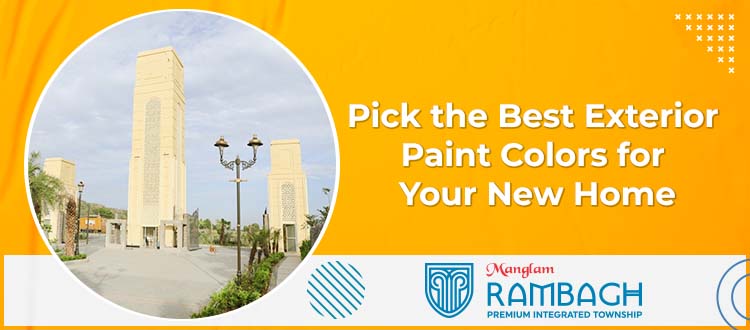 Pick the Best Exterior Paint Colors for Your New Home
So, you built your dream home. From each brick to every nook, you took care of everything. But when it comes to painting your dream home's exterior, you may fall short of ideas. Picking the right shade for paint for your Indian home's exterior is not a piece of cake. You have to consider the Indian weather conditions before you pick a color. Also, the exterior of your home defines you as much as the interiors of your home so just don't take the paint job of your new home at Manglam Rambagh lightly. Your home on the plots in Neemrana reflects your personality and gives the viewers the first impression of your home. So here are some tips on choosing the best exterior painting ideas for Indian homes.
Color Combination
When it comes to picking a color for the paint, stick to a single or a combination of two colors. Don't go for more than two colors as it will make your house look chaotic from outside. If a single color looks a bit monotonous to you, consider using different shades of the same color. Using a good color combination for your new home on the property in Neemrana will give it a trendy look.
Choice Of Color
While selecting a color for the exterior, it is better to avoid picking dark colors like black. Dark colors absorb dust and will require frequent repainting which is not cost-effective at all. You can use dark colors with light ones, using dark colors to highlight the main features of the house.
The Durability of The Paint
The type of paint used to paint your new home on plots in Neemrana greatly influences the durability of the paint. For exterior wall paints, eggshell and satin paints are the best choice as they have high durability and are easier to clean. Don't go for glossy paints.
Effect Of Nature and Surrounding
Before picking a color for the exterior, take into consideration the surroundings and backdrop of the area you are living. The color should complement the surrounding. Like if you live in a hilly area, picking a cooler color for your paint job will add a better appeal to your home.
Attraction
The exterior of your home is the first look that outsiders get to see of your home so it is needed to be an attractive one. The bright color looks attractive so you can use bright ones for your home's exterior paint. They add extra appeal to your home at the first blink.
Set a Theme
Deciding on a theme will help you think out of the box and bring creative paint ideas to the table. Also, they will give your home uniqueness and will give a feeling of oneness.
These were some of the ideas to consider before picking a color for the exterior of your home. If you are planning to build your dream home, we have an exquisite space for you. The Manglam Rambagh, located on Jaipur-Delhi Highway offers residential and commercial plots in Neemrana perfect for your dream home, equipped with high-end amenities and infrastructures