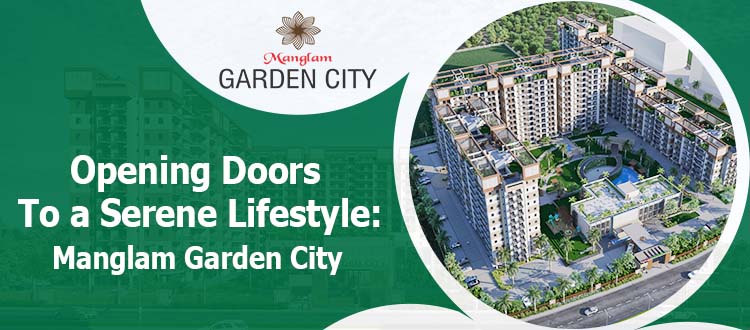 Opening Doors To a Serene Lifestyle: Manglam Garden City 
Manglam Group has influenced the lifestyle of numerous homeowners and has delivered beautiful living spaces to many families.
And yet again, Manglam Group has come up with a beautiful luxury project, the Manglam Garden City. Manglam Garden City defines the new name of luxury surrounded by lush greens. The project offers 3 BHK flats in Jaipur with a commitment to quality, luxury, and innovation-driven infrastructures. Garden City, located in the lap of nature, refines extravagance for you on another level and will make you fall in adoration with your dwelling. 
Built on the pillars of trust and passion, Manglam Garden City will be a treat to your senses and will prove to be your perfect dream home.
The beautiful 3 BHK flats in Jaipur are designed to serve you a living you have always desired. The state-of-the-art infrastructure and establishment at Garden City will offer you a complete lifestyle upgrade. Encircled by gardens from all sides, you will experience the captivating vistas and luxuriant greenery of ravishing gardens. The 3 BHK apartment in Mansarovar Jaipur is encircled by gardens on all sides and is an ideal abode for somebody who desires a lifestyle of quality. The beautiful panoramic sceneries will fill your life with serenity. If you are ready to experience a lifestyle filled with tranquillity, the flats in Jaipur surrounded by gardens are perfect for you. 
Your search for a luxury haven in Jaipur will end at Manglam Garden City. Apart from mind intriguing vistas, the 3 BHK flats in Jaipur are provided with world-class amenities like a swimming pool, clubhouse, beautifully designed landscaped gardens, and wet cabanas. Garden City also delivers highly contemporized amenities like a pool deck, open-air theatre, skating rink, and a gazebo. If you are someone who loves sports or likes indulging in sporty activities once in a while, Manglam Garden City has the finest installations like cricket pitch, tennis, and badminton court just for you. 
The contemporary structure of the project fulfils all your needs for your urban lifestyle. There are so many exquisite world-class facilities offered by the project that can effortlessly upgrade your lifestyle to another level. The Garden City is located in one of the finest locations of Jaipur, near Terminal Market, Mansarovar Extension. If you are looking for a quality life, book your 3 BHK flats for sale in Jaipur today and ensure a life of peace with us.