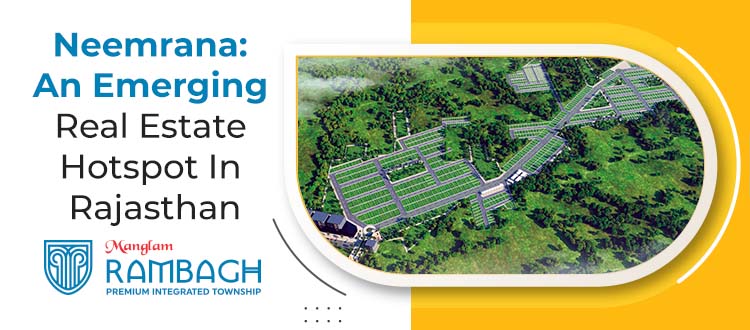 Neemrana: An Emerging Real Estate Hotspot In Rajasthan
Neemrana is an emerging name among the hotspots for real estate investment in Rajasthan.
Through the years, Neemrana has seen enormous development and is rising as the face of new developments. This speedily developing locality of industrial and residential growths in Rajasthan has been an attraction among the real estate buyers in the country. Neemrana is emerging as a new area of attraction for real estate investors. It is the right time for investors to invest in a real estate property in Neemrana. One among the top real estate companies in Rajasthan, the Manglam Group is offering residential and commercial plots in Neemrana in the most beautifully integrated township in Neemrana, Manglam Rambagh.
Let's look at the major reasons for investing in a property in Neemrana.
Potential Growth:
Neemrana is seeing an enormous rate of development in the industrial and residential real estate sectors. The RIICO has developed seven industrial zones in Neemrana. New hotels, resorts, and other lodges are opening as tourism is flourishing in Neemrana. Rajasthan Government is developing several industrial, residential, and institutional infrastructures in Neemrana.
Location and Connectivity:
Neemrana, a part of the extended Non-Capital Region (NCR) is located 122 km from Delhi, 85 km to Gurgaon, and 149 km from Jaipur. This town has easy connectivity to some of the major cities of India. Also, the DMICDC has proposed a Delhi–Alwar Regional Rapid Transit System (Delhi–Alwar RRTS), a semi-high speed rail corridor connecting Delhi, Gurugram, Rewari, Neemrana, and Alwar.
Excellent Job Opportunities:
These infrastructure developments in the industrial sector have attracted major Japanese businesses to invest in Neemrana. While some of the major Korean and Indian companies have proposed massive investments in Neemrana. This major growth in industrialization in Neemrana is persuading more and more companies to invest in Neemrana, developing employment and job opportunities in the growing economy.
These were some of the reasons why buying a property in Neemrana can be the best investment decision. Also, with the growth of industrialization and infrastructure developments, property for sale in Neemrana would see major property value appreciation in coming years. So, it is the perfect time to buy plots in Neemrana that would offer high investment returns in the future.
Manglam Rambagh, a township in Neemrana, spread over 80 acres of land on the main Jaipur-Delhi Highway offers plots in Neemrana with major high-end amenities that add convenience and luxury to the resident's lifestyle. You can buy plots for sale in Neemrana and build your dream home in one of the most captivating locations of Rajasthan surrounded by lush greens and social infrastructures like a high street shopping district, workspaces, hospital, and much more for a modern community.