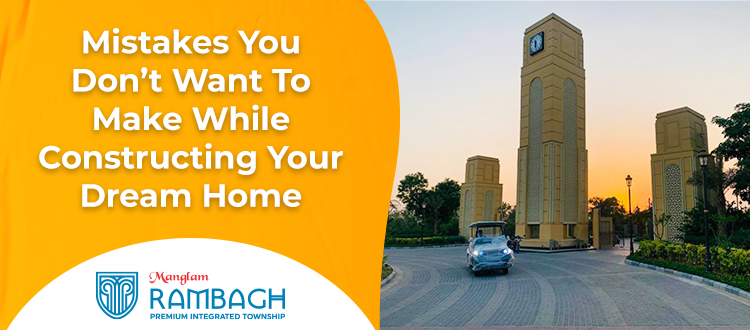 Mistakes You Don't Want To Make While Constructing Your Dream Home
The desire to build your dream home from scratch is a dream held dearly by
many. One can easily define their dream home and everything they want in it.
However, when it comes to actually standing on the field, to build the home of
the dreams, deciding on every single little detail, it becomes a task. It can
sometimes be very draining, both mentally and financially if not planned
properly. However, to help you through the process, we have curated a list of
mistakes you need to avoid while building your dream home.
If you are looking for a land to invest in, where you can give shape to your
abode, Manglam Rambagh, a beautifully integrated plotted development that
offers plots in Neemrana, equipped with every amenity and facility you
desire.
Mistakes to Avoid While Building Your Dream Home
1. Not Budgeting the Expected Cost: Before you begin with the
construction, sit down and breakdown all the costs involved in the
process. This helps you have an actual idea of all the costs involved
and not end up being broke midway. The costing depends on the
location, the type of infrastructure, materials used, labour cost, and
construction management.
2. Not Finding the Right Location: The last thing you want from your
dream home is to feel stuck in it, that is why the location plays a very
important role. The plot for sale in Neemrana is located just near to
everything you need, placing you at zenith facilities and conveniences.
Everything including highschools, hospitals, market, as well as
recreational areas are right near you.
3. Not Focusing on the Design of the Home: Before you begin with the
construction, hire a good architect and make a plan for your house
design. An architect will supervise the entire process and help you give
shape to your dream home.
4. Not Choosing the Right Contractor or Builder: After the architect is
done with his designs, you need to hire a trusted and professional
contractor who would get going with the construction process. A good
contractor will take care of everything, from not exceeding the budget to
ensuring that the ceiling doesn't collapse or the roof doesn't leak.
5. Not Picking Quality Material: Picking the right tools and material for
your home is an uncompromisable step. It saves time as well as future
frustrations and spendings. You don't want your home to require
reconstruction every now and then. Thus, invest in quality products.
These were a few mistakes you need to avoid while building your dream
home. Manglam Rambagh offers residential and commercial plots in
Neemrana perfect in every way to build your dream home. Equipped with high
end amenities and facilities to make your living a standard experience.