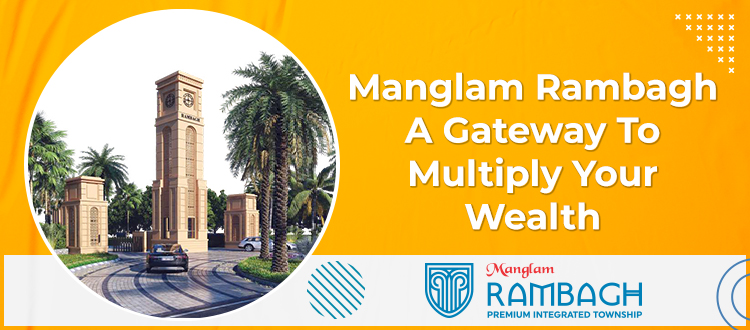 Manglam Rambagh: A Gateway To Multiply Your Wealth
The real estate sector is growing constantly to become one of the leading investment options among property buyers. As the real estate market grows, more and more people are looking for profitable investment options to finance their hard-earned money and secure great investment returns for the future. Plotted developments are one of the best choices to build assets and wealth. Among the increasing popularity of apartment projects, plotted developments like Manglam Rambagh have earned a fair share of traction by investors and are chosen by investors over the last few years. Plots in Neemrana are becoming a prime attraction to investors. Manglam Rambagh offers residential and commercial property in Neemrana that are the perfect form of investment and promises great investment returns for the future. 
If you are looking to invest in real estate, here are a few reasons why plots in Neemrana in plotted developments like Manglam Rambagh can be the best option.
Rapidly Developing Industrial Capital
Manglam Rambagh places you in the zenith of opportunities. Neemrana is known to be the industrial capital of Rajasthan. Along with it, Neemrana is also home to many well-known IT companies. The plots in Neemrana are located overlooking the industrial areas and just a drive away from RIICO Circle, Hero Neemrana plant, and more influential setups.
Proximity To Prime Locations
Manglam Rambagh, located on the main Jaipur-Delhi Highway places you in a location that fosters excellent connectivity to some of the prime locations. The plots for sale in Neemrana serve excellent connectivity to prime cities like Jaipur, Gurugram, and Delhi. Manglam Rambagh places you in the zenith of comforts serving excellent connectivity along with adding to your solace. 
Upcoming Developments
Neemrana is one of the 27 smart cities of the Delhi–Mumbai Industrial Corridor Project (DMIC) and is also known as a mini Japan. RIICO in association with JETRO is developing major Japanese zones in Neemrana which are about 500 acres. Neemrana also falls under the Delhi–Alwar Regional Rapid Transit System (Delhi–Alwar RRTS), a 164 km long, semi-high speed proposed rail corridor connecting Delhi, Gurugram, Rewari, Neemrana, and Alwar. 
Enveloped By Lush Greens
The property for sale in Neemrana at Manglam Rambagh is enveloped by lavish greens on all sides. The beautifully integrated Manglam Rambagh is designed to support a sumptuous lifestyle along with fostering a serene life for the residents encircled by greens and tranquility. 
All of these factors are enough to prove that plots in Neemrana are the perfect form of investment as it promises assured returns for the future. They are located in one of the most beautiful locations of Rajasthan which is a hub for major IT companies, developments, and infrastructures along with serving excellent connectivity. So if you are looking to invest in a property that multiplies your wealth and assures a peaceful and content life with your loved ones, Manglam Rambagh is perfect for you.