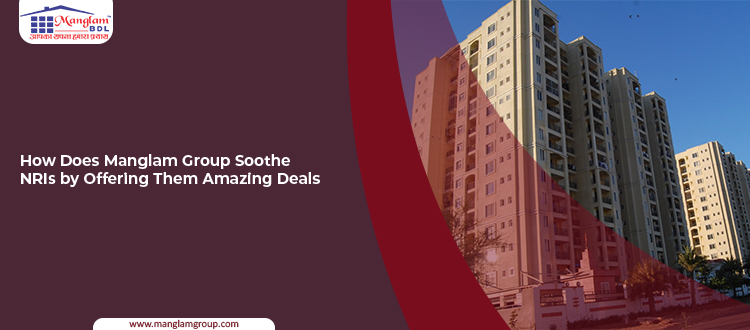 How Does Manglam Group Soothe NRIs by Offering Them Amazing Deals
There are only a few of the societies that offer beneficial deals to Non-Resident Indians. And Manglam Group stands as one of those societies that take care of the fact the NRIs are Indians too, and they need convenience and all-soothed terms when it comes to choosing a perfect home for themselves or their loved ones.
Manglam Group has simplified and super-convenient plans for NRIs so that they may quickly adhere to their housing needs and get all their essential deeds done in a minimum possible time span.
Let's check out some of the aspects that have been eased by Manglam Group offer the best housing solutions to Non-Resident Indians.
Offers Finest Residences in the Best Value Possible
There's forever or never a better time to make an investment in residential properties. If you play in dollars but want to invest in the best of residences, then Manglam Group offers easy terms & conditions so that you being an NRI, can easily invest in your favorite property. Being one amongst the top real estate builders of Rajasthan, Manglam Group proposes NRI Active Investment Advantage to Non-Resident Indians. This scheme makes it easier for NRIs to invest in the real estate scenario of Rajasthan, Goa, as well as, Uttar Pradesh and enable them to attain great ROI on the properties.
Proposes Advantageous Value for Your Foreign Exchange
If you're willing to invest in a property through foreign exchange, then the flexible deals offered by Manglam Group enables you to pay conveniently. All you require to do is to remain stuck to the fixed forex rate decided on the very day of the payment receipt of booking your residential property. And, you can make use of the same conversion rate for all the investments you do in the future, regardless of any INR appreciation. Through this approach, you will able to receive guaranteed gains through your forex investment and get the best of deals in the present itself.
Introduces a Sense of Certainty to Your Forex Market
If you're a forex trader, then you must know the fact that you may or may not get a beneficial exchange rate at a particular time, depending on the market condition. But with the help of Manglam Group, you can be sure about while playing with the dollar rate. Manglam group offers the best possible exchange rates to you when it comes to investing in properties of your choice. These real estate attributes can be apartments, retail stores, bungalows, commercial spaces, or anything else. Manglam Group has it all for you at the best of rates.
Summing Up
These are some of the aspects through which Manglam Group soothes NRIs with the best of deals. Other than these, they get to invest in never-like-before housing as well as commercial plans that they can cherish for a lifetime.