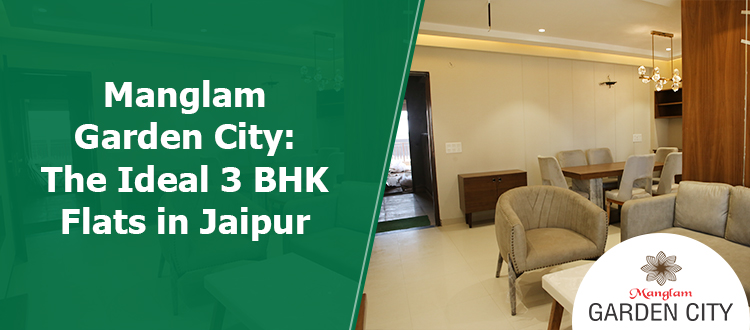 Manglam Garden City: The Ideal 3 BHK Flats in Jaipur
In search of your dream home in the beautiful city of Jaipur? When it comes to your dream home, no one ever wishes to compromise. A home filled with just simplistic charm and a surrounding that reflects your happiness is a perfect place to reside. Manglam Garden City is the epitome of beauty and a place that has surreal views and redefines exceptional residency experiences.
Manglam Garden City is a beautifully developed project in the heart of urban Jaipur. Garden City offers the biggest size 3 BHK flats in Jaipur that are developed with exceptional architecture and world-class construction materials.
This thoughtfully developed apartment complex is surrounded by lavish green gardens and sumptuous natural beauty. The beautiful apartment project is built to cater to your every sense making you fall in love with your abode. The peaceful and serene surroundings are one of the reasons why you will love living here. Manglam Garden City is just perfect in every way. The project offers exceptional security and safety measures that allow residents to live a comfortable and carefree life while also having the utmost privacy and space. If you are looking for a 3 BHK in Jaipur that aids your lifestyle advancement, is safe, secure, and is a perfect place to reside with family, Manglam Garden City is just right for you.
Garden City is thoughtfully integrated so as to offer a very serene life to the residents. The aesthetically pleasing zen gardens surrounding the apartment project offer not just scenic views but also are perfect to spend some quality time with your friends and family surrounded by nature. The landscaped garden offers both the young as well as seniors a serene space to rejuvenate and unwind from their everyday stress and feel energized in nature.
If luxury is your thing, Manglam Garden City has got you covered. This apartment project is a perfect home for you if you want a sumptuous luxurious life. It offers multiple amenities and facilities that aid your lifestyle advancement. Some of the amenities include a clubhouse, swimming pool, pool deck, open-air theatre, gazebo, senior citizen area, skating rink, kids play area, and so much more that serves the residents with an opulent lifestyle.
If you are planning to invest in one of the 3 BHK flats in Jaipur, the biggest-size apartments by Manglam Garden City are just perfect for you. The apartments are thoughtfully structured which makes them airy, well ventilated, and offer maximum living spaces. Manglam Garden City is a merge of excellent location and great living standards making it a perfect investment opportunity for you.