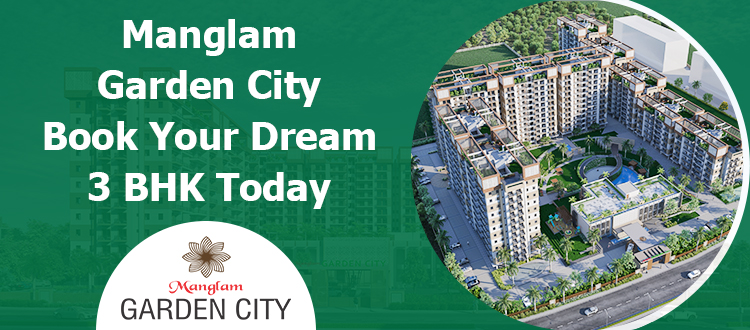 Manglam Garden City: Book Your Dream 3 BHK Today!
A home is a place that embodies peace and calm for you, a home is a place that gives you reasons to smile. One such home is offered to you at Manglam Garden City. 
Manglam Garden City presents 3 BHK flats in Jaipur that are one of the most captivating spaces perfect for families looking for a home to live comfortably with their treasured ones while creating a bucket of memories. The apartments at Garden City exude warmth along with giving you ways to add your touch to your home making it more comfortable for you. The 3 BHK apartment in Mansarovar Jaipur is designed with perfection to offer a lifestyle upgrade. 
Let's find out why and how Manglam Garden City is a perfect home for you. 
Enveloped By Nature
The 3 BHK flats in Jaipur by Manglam Garden City are enclosed by nature on all sides offering residents beautiful spaces to feel calm and composed. The heart-throbbing vistas give ample reasons for the residents to fall in love with their abode. Once you enter the premises of Garden City, you will only wish to never go away.                                                                                             
Unbridled Finest Luxuries 
The luxuriant lifestyle you always dreamt of is delivered to you at Manglam Garden City. The 3 BHK apartment in Mansarovar Jaipur is equipped with amenities like a swimming pool, open-air theatre, wet cabanas, tennis court, senior citizens area, cricket pitch, tennis court, kids play area, and all the high-class facilities that fill the life of residents with opulence and allows them to enjoy life at its best. These amenities create a blissful existence experience for all age groups along with giving a perfect reason to smile. 
An Enviable Location in Jaipur
The 3 BHK flats for sale in Jaipur are known to offer seamless connectivity to nearby locations through elaborate transportation services. Also, the project places you in the zenith of facilities among renowned schools, multispeciality hospitals, shopping centers, markets, etc. So, location is never a matter of complaint at Manglam Garden City. 
With constant interaction with nature to connectivity and leisurely activities at the project itself, Manglam Garden City answers to all your dreams at this project. Once you are ready to experience life at its best, the 3 BHK flats in Jaipur will be perfect for you.