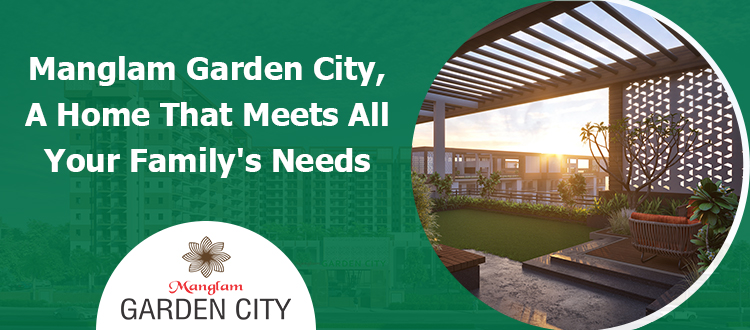 Manglam Garden City, A Home That Meets All Your Family's Needs
A home is the biggest investment one makes in their lifetime. Not only does the house you pick determine your living space but also impacts your family's life. One needs to make the best decision when investing their hard-earned money in a property. 
A home is not just a roof or the walls, but a space that will impact how you live your everyday life, the way your family feels, the way your family feels safe and contentment. A home is a place where you and your family can live happily and comfortably. The 3 BHK flats in Jaipur by the Manglam Garden City are designed to foster a captivating life for you and your loved ones. However, the qualities of a perfect home largely depend on the owner and how they want their home to be. The 3 BHK flats for sale in Jaipur are thoughtfully designed and developed to meet all the demands of every family member so they can feel more connected and happy in their home. Some of the qualities that define a perfect home are mentioned below. 
An Airy and Well Ventilated Home
A well-ventilated home is a sign of good vibes and a positive stance. A home with plenty of natural light and airflow fosters a healthy life for the residents. The airy and spacious flats in Jaipur are thoughtfully designed to provide a serene life to the residents. 
Good Quality Construction Material
The one factor that stands imperative while selecting your home is the quality of construction material used. This not only determines the quality of your home but is also an emotional milestone along with a lifetime investment. Manglam Group is one of the leading real estate developers in Rajasthan that are committed to fostering the best quality living experiences for the residents. 
Spacious rooms and kitchen
Your perfect home satiates all your and your family's needs and requirements. One important aspect of the home is the space available. The 3 BHK apartments in Mansarovar Jaipur are ergonomically constructed and beautifully designed to offer ample open spaces to the residents allowing them to utilise spaces without making the home look cluttered and crowded. 
Good Quality Bathroom and Kitchen Fittings
Top builders like Manglam Group only use top-quality fittings like shower fittings, bathroom fittings, and locks. Moreover, the fittings add a touch to the interior and make the property look more exclusive. 
The above-mentioned points are to be considered while looking for your dream home that answers all the wishes of your family. The 3 BHK in Jaipur in the beautiful Manglam Garden City promises a lavish life for you and your family. They offer a lifestyle equipped with high-end amenities that can fill your life with opulence and make your life worth living.