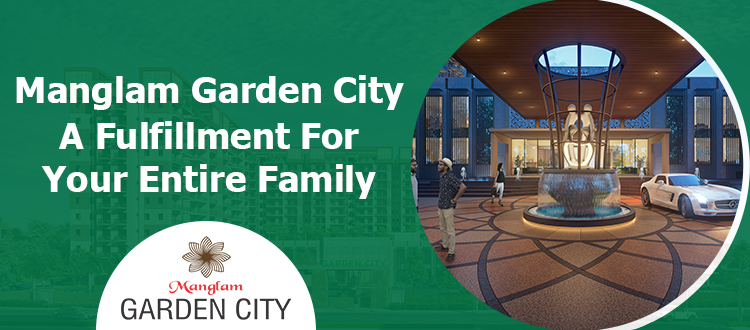 Manglam Garden City: A Fulfillment For Your Entire Family
A home is much more than just a roof over the head. It is a place where one lives, where love resides, and a place that fulfills our wishes. The warmth and coziness one feels in their home can never be replaced by anything. However, that one perfect home for anyone is determined by their individual preferences. What might be perfect for one may not be for another. Manglam Garden City, a beautifully developed apartment project offers a satisfactorily designed 3 BHK apartment in Mansarovar Jaipur that would prove to fulfill all your desires and would be your perfect dream abode.
Some of the features to be considered while picking your dream 3 BHK in Jaipur are mentioned below.
An Airy and Well-Ventilated Space
An airy and well-ventilated home allows residents to feel fresh as well as it promotes a healthier environment for residents. Plenty of sunlight and airflow make the home ideal for living. The flats in Jaipur by Manglam Garden City are strategically planned to offer spacious rooms as well as proper ventilation in the apartments promoting better living conditions for the residents.
Ergonomically Designed Interior
One of the best parts of living in one of the 3 BHK flats in Jaipur at Garden City is that the apartments are ergonomically designed to foster a spacious living experience for the residents leaving more room for residents for some "me time".
Finest Quality Construction Material Used
The flats in Jaipur developed by the Manglam Group are constructed using only the best quality construction materials and fittings. Buying a home is a huge emotional and financial investment and Manglam Group understands this and never compromises its quality.
Kitchen With Enough Space
As the kitchen is the most important room of a home, they are well planned and designed to offer ample spaces to residents along with enabling a streamlined flow during work. Also, the 3 BHK flats for sale in Jaipur offer a well-ventilated and beautifully designed kitchen with ample spaces for utensils and instruments.
Manglam Garden City offers beautifully planned and spacious flats in Jaipur that are perfect to call your new home. They are equipped with state-of-the-art amenities fostering a life for you that you have always dreamt of.