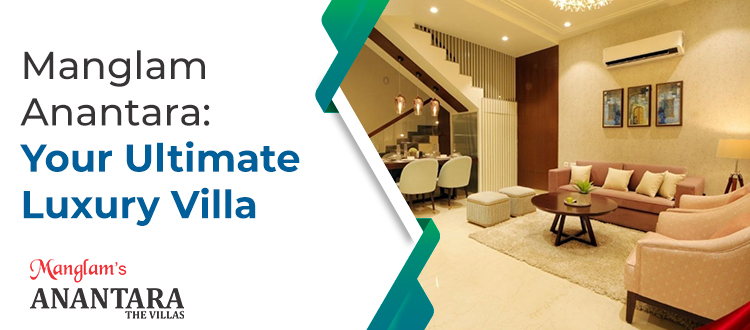 Manglam Anantara: Your Ultimate Luxury Villa
With the changing lifestyles, people are more inclined toward choosing luxury villa projects as their prospective homes. Despite the real estate market fluctuations, demand for luxury villas in Jaipur is continuously on the rise. Multiple well-known developers like the Manglam Group have come up with luxury villa projects. One such beautiful project is the Manglam Anantara, located on Ajmer Road, it offers beautiful 4 BHK luxury villas in Jaipur. 
Some of the features of Manglam Anatara are:
Vaastu Compliant Planning
The 4 BHK luxury villas on Ajmer Road are designed and developed keeping Vastu Shastra, the traditional Indian system of architecture in mind to foster peace in the home as well as the mind. This renders positivity, peace, harmony, and wealth. 
Spacious Living Concerning Maximum Utility
The villas are planned in a way to offer maximum open spaces allowing full functionality and convenience. The villas are developed to provide ample natural light and excellent cross ventilation.
Landscaped Gardens
The villas on Ajmer Road are surrounded by 1.5 acres of private landscaped gardens that foster excellent living conditions for the residents. The gardens not only serve scenic beauty but also give residents a space to enjoy nature.
Secured Gated Premise
Manglam Anantara gives maximum priority to the convenience and safety of its residents. The secured gated premises at Anantara boasts safety as well as security for the residents. Children and elders can also enjoy their time outdoors without any fear. 
High-end Amenities
The 4 BHK luxury villas on Ajmer Road are equipped with high-end amenities like a swimming pool, mini plex, gymnasium, luxury clubhouse, and many other facilities that fill the life of residents with opulence and give them multiple reasons to smile and rejoice with their loved ones. 
Manglam Anantara is a new name for luxury. The luxury villas in Jaipur provided by Anantara are thoughtfully designed with Vastu compliance to foster harmony. Also, the villas are equipped with world-class amenities to allow residents to enjoy their time surrounded by opulence and nature.