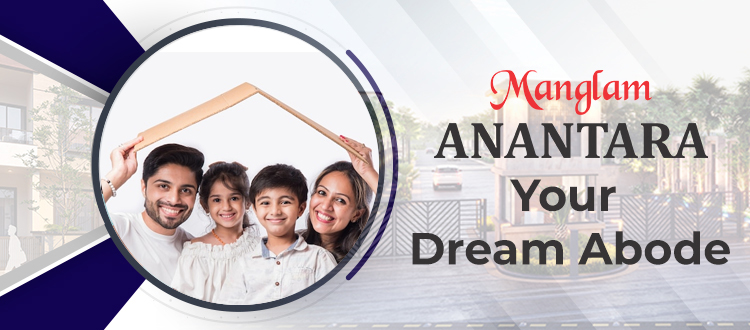 MANGLAM ANANTARA: YOUR DREAM ABODE
When it comes to buying a property, there are many options available.
From plots and apartments to independent villas, one can easily get confused among the varied kinds of properties available. Buying a property is a big life decision and it influences one's life greatly. The kind of property one picks as their future home defines their personality and status greatly.
And to be exact, independent housing facilities like villas are the best options. They offer independence on needs for a relaxing and lavish living. Along with it, they are the symbol of sophistication, status, quality, and luxury living.
Manglam Anantara is a premium villa project on Ajmer Road that defines the new name of luxury. This luxury project, located in close vicinity to the city near top-notch schools and corporates offer beautiful villas in Jaipur that are well equipped with world-class amenities to add convenience and luxury to the lifestyle.
Let's look at some of the reasons why Manglam Anantara can be your perfect home.
Privacy:
The 4 BHK Villas on Ajmer Road offer you the privacy you have always wished for. You get your own private space without the interruption of noisy neighbors where you can enjoy yourself with your loved ones alongside living in a community.
Freedom:
Living in a villa offers you the freedom you always needed which sometimes is unachievable in the case of apartments. Apartment living most of the time doesn't allow pets or even host parties. Living in a villa sets you free from all these conditions.
Closer to nature:
Villa projects are mostly built on large areas with ample greens. This allows you to be in the vicinity of nature. This is one of the best advantages of living in a villa. Manglam Anantara is surrounded by lush greens with 1.5 acres of landscaped private gardens.
Freedom of customization:
One of the main perks of buying a villa is that you can design your home according to your taste. You get the sole right to change and modify according to your wish and need.
Good neighbourhood:
If you buy a villa in beautiful housing communities like the Manglam Anantara, you can be guaranteed that you are going to live in a community of good and like-minded people. It offers you the opportunity to mingle and make friends with your fellow members of the community and also relish the amenities with them without any hesitation.
Secure and Safe:
One of the most important factors one looks for before buying a house is its safety and security. In the case of villas, you don't need to worry about it. Villa projects like Anantara offers a high level of security with a gated community, CCTV surveillance, intercom services, and security guards.
Buying a home can be very intimidating. One invests his hard-earned money into a property. That is why it is important to make the best choice after researching.
Villa properties like the Manglam Anantara are designed and built at one of the most beautiful locations of Jaipur and are developed in a way to provide its residents with all the luxury amenities to add opulence to their lifestyles. They offer a beautiful villa on Ajmer Road that is perfect for you and your family for leading a beautiful life in the lush greens and peaceful surroundings.