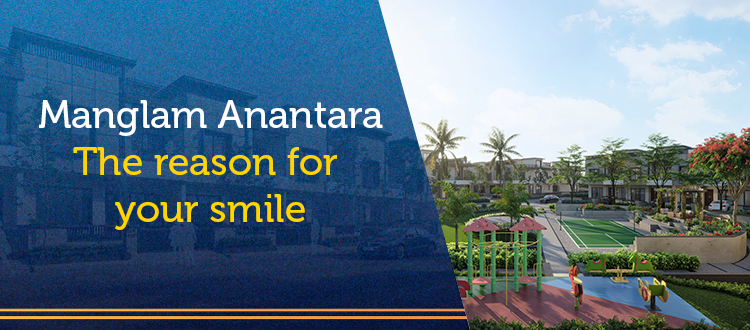 Manglam Anantara: The reason for your smile
What is happiness to you?
For most people, living in a beautiful home with their family and sharing love and laughter is the definition of happiness. A beautiful home, with a lush green environment where the family could go for evening strolls, is a dream for many people.
Manglam Group brings your dreams to reality with Manglam Anantara. The 4 BHK villa in Jaipur is a place where the ambiance speaks to you and offers you living space with all the high-end amenities. Here you not only enjoy yourself with your family but can have the best times of your lives. Thus, this villa project offers a life filled with happiness and peace.
Best villas project in the luxury segment
Do you want a beautiful and spacious home for you and your family that offers the best of luxury? Here is the answer as Manglam Anantara is one of the best villa projects in the luxury segment. You can find all the high-end amenities like a swimming pool, kids play area, mini plex, and other amenities in abundance.
1.5 acres of private garden
A home with lavish green surroundings? Manglam Anantara, away from the city life, is surrounded by 1.5 acres of private garden. Living in the green surrounding with a serene landscape helps you raise your spirit and fills your heart with positivity.
Secured Gated Premise
Everyone wants to feel protected, safe, and taken care of. The CCTV camera surveillance and 24*7 gated security ensure that you live away from any kind of insecurity or fear.
Vastu Compliant
Real estate has catered to different demands but a factor that everyone considers before purchasing any property is that the property should be Vastu compliant. The 4 BHK Villas on Ajmer Road Jaipur are based on the principles of ancient 'Shilpa Shastra', the science of architecture.
Manglam Anantara villa in Jaipur enhances the quality of your life and offers you the utmost tranquillity and harmony. You can rejoice and mingle with your family here. Thus, Manglam Anantara is not less than a haven where you share peaceful moments with your family.
The luxury villa prioritizes safety, security and also provides you with the luxuries you want in your dream home. Anantara offers you a place where you can lead a happy and healthy life in a lush green environment with your family. Be a part of the Manglam family, and let Manglam Anantara give you many more reasons to smile and stay happy.