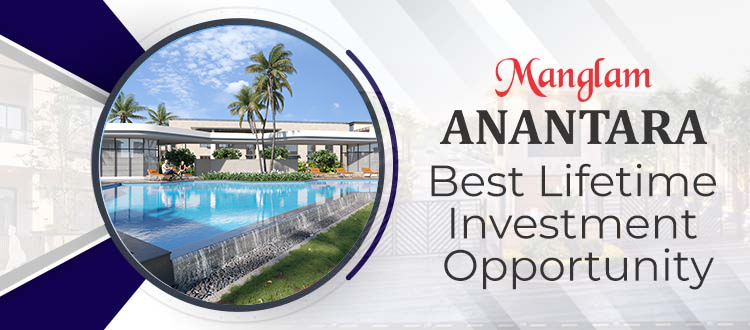 Manglam Anantara: Best Lifetime Investment Opportunity
Jaipur is one of the most beautiful cities in northwestern India.
Living in a beautiful city like Jaipur in a beautiful home is no less than heaven. This city has been a constant attraction among people looking for a good location to relocate. Living in a beautiful and luxurious villa in a city like Jaipur where you can spend a life filled with love, laughter, and peace. A home where your happiness knows no boundaries.
Anantara – The Luxury Villas, located opposite Pink Pearl water park, main Ajmer Road, Jaipur is a premium villa project that delivers the new name of luxury with its 4 BHK villa on Ajmer Road. Manglam Anantara is a perfect home and will prove to be your best lifetime investment because of the following reasons:
High Standard and Comfortable:
Living In a city like Jaipur with your family which is rich in culture and traditions, the beautiful 4 BHK villas in Jaipur are a perfect choice for you. Jaipur is a city that serves a perfect blend of modernity with culture. Owning a villa which is equipped with luxury amenities would definitely raise your living standards to the next level. They provide all the possible amenities that add opulence and comfort to your lifestyle.
Value Appreciation:
Locations like Ajmer Road in Jaipur would see an appreciation in property prices in near future. Looking at this fact, one perfect decision one can make is to buy an exquisite villa on Ajmer Road. Located among some of the best schools, hospitals, and corporates, buying such a property would prove to be a fantastic investment prospect for you.
Security:
One of the most important factors is the security of your loved ones. Within the secured gated premises, CCTV surveillance, intercom facility, and 24*7 security guard services, Manglam Anantara is a perfect abode for you where you can live your life tension-free. Villas in Jaipur by Anantara are future technology-enabled homes equipped with all security measures to keep you at ease.
Liberty and serenity:
A villa in Jaipur not only provides you the power of customization of your home but also offers you a lifestyle among 1.5 acres of lush greens which adds serenity to your life. A home which you can design according to your taste, pick your pieces of furniture, plant herbs and flower plants in your garden, and enjoy with your loved ones.
Manglam Anantara brings luxurious 4 BHK villas on Ajmer Road that are designed and developed in a way that provides the perfect architecture that catches an eye on the very first glimpse. Additionally, they are located in some of the rapidly developing areas in Jaipur ensuring that you get an absolute handsome monetary return on your invested money in the beautiful villa project on Ajmer Road.