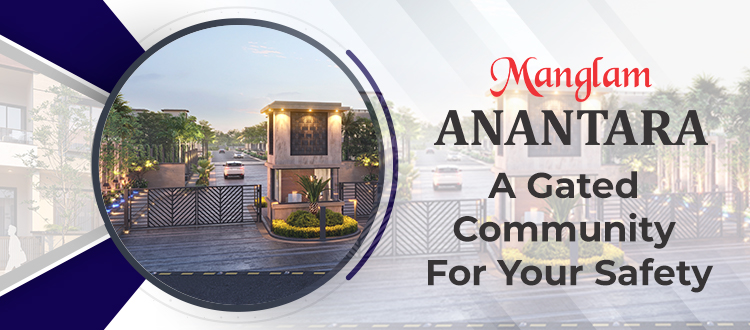 Manglam Anantara: A Gated Community For Your Safety
In recent years, the real estate division has seen an inclined interest of home buyers towards gated communities.
Buyers are more interested in buying villas in Jaipur in gated communities. Premium villa projects such as Manglam Anantara can be one of the best examples for this .
Gated communities serve a better purpose in delivering a sense of security and safety to their residents. They offer exclusivity along with privacy, surrounded by the walls of the community. Apart from this, gated communities have been a popular choice among those who are in search of luxury accommodation as gated communities provide high-end amenities and luxuries, making it a small world in itself. Along with luxury living standards, gated communities also provide a feeling of belonging, brotherhood, and relativity among the residents making them all a big family.
Manglam Anantara offers luxurious villas on Ajmer Road that are strategically located in the close vicinity of the city near top-notch schools and corporates. The 4 BHK villas in Jaipur is well equipped with 24*7 security guards, intercom services, and CCTV surveillance in common areas to ensure proper safety and security.
Let's look at some of the reasons why gated communities serve as a security boon in current times.
No More Traffic:
One of the benefits of gated communities is that it reduces the commotion of traffic near your residence. A home on the bustling roads may provide closeness and connectivity but with it, it also serves you commotion and fuss on a platter. Gated communities limit traffic and commotion and reduce speeding vehicles behind the gates. This provides a more serene and peaceful environment for living and offers a safer and secure surrounding for children to play and the old aged to enjoy the surroundings respectively in the neighborhood. Gated communities serve a better and carefree environment for residents making them more connected with their homes.
Safe And Secure:
Needless to say, gated communities serve a way more safe and secure environment for residents in comparison to a non-gated residency. There is a limitation to who has access to the community. One can even restrict an outsider from entering the community if they feel threatened by them. Gated communities serve high-security systems. It also keeps criminal activities out of the campus with strong security. With this level of privacy and security, gated communities are the best for residence.
Better Social Life:
Before selling the property, the background of the buyers is thoroughly checked. This ensures that only genuine people occupy the property. This serves to transform the residency property into a community of authentic and good people. This allows residents to freely mingle and make good friends with their neighbors and enjoy the luxuries and amenities freely with them. This helps to build a better social life in the community.
Manglam Group has developed the most beautiful villa property on Ajmer Road, which has a strategically, innovatively, and skilfully designed gated community in the highly promising area of Jaipur. Manglam Anantara offers a beautiful villa in Jaipur that is well equipped with all security measures and serves high-end amenities to the residents.