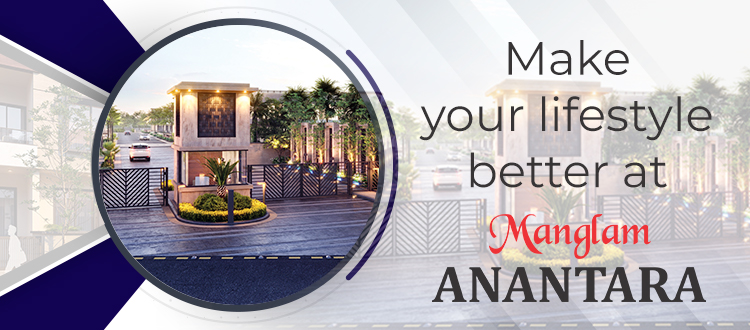 MAKE YOUR LIFESTYLE BETTER AT MANGLAM ANANTARA
Everyone wants a life with contentment and joy.
A home where they can live comfortably with their family. A surrounding that encourages them to be physically fit and healthy. An atmosphere that elevates their mental well-being. All this counts to a perfect lifestyle. Your lifestyle is your choice and your decision to upgrade your lifestyle starts with choosing a perfect home for you and your family.
A home where you can lead a healthy and happy life with your family and share love and laughter. Choosing a 4 BHK luxury villas in Jaipur as your future home is the best decision you can make to upgrade your lifestyle. Manglam Anantara's Villas on Ajmer Road Jaipur, are a synonym of high-end luxury, comfort, and convenience and offers a perfect lifestyle under one roof with all the amenities one needs to live their life hassle-free.
Below are some of the points mentioned, why you should go with Manglam Anantara to upgrade your lifestyle.
Luxurious living spaces
Your living space is the foremost element that influences your lifestyle. A luxurious and comfortable home makes you content and cheerful. A home that pleases your soul and lets you host small social gatherings and celebrations connects you with your relatives and friends. Manglam Anantara makes you feel at home. Thus, these villas in Jaipur add to your happiness and let you share beautiful moments with your family.
Promotes your physical fitness
Your physical health should always be your top priority. Including exercises and yoga asanas in your everyday routine can be the best idea to be fit and healthy. Manglam Anantara offers a well-equipped gymnasium. This would facilitate your fitness routine and also encourage you to exercise.
Celebrates childhood
A place that values your child's needs and provides amenities that make your child more engaged and happy. Your child grows and improves their intellect through various physical and cognitive activities. Manglam Anantara has a safe & secured kids play area and an indoor games area.
Care for elderly
Elders are the pillar of society and they need to be cared for and loved. Valuing this emotion, Anantara offers a separate senior citizen area where they can spend their time with their other elderly friends and rejoice.
All facilities at doorstep
What else is better than not having to rush to markets for your minor inconveniences. You can get all maintenance related services like plumber, electrician, and garbage collection services for your comfort at your doorstep, everything you need is under one roof.
High-end amenities for leisure
A home with luxurious facilities to turn your lifestyle into a masterpiece. The villa project offers you high-end amenities like a swimming pool, clubhouse, multipurpose hall, and a mini plex for your luxurious living.
Manglam Anantara is a masterpiece that can truly change your life with all the magnificent amenities. All in all, It is the best decision you can make. Buy luxury villas on Ajmer Road, Jaipur, and take your lifestyle on a spin.