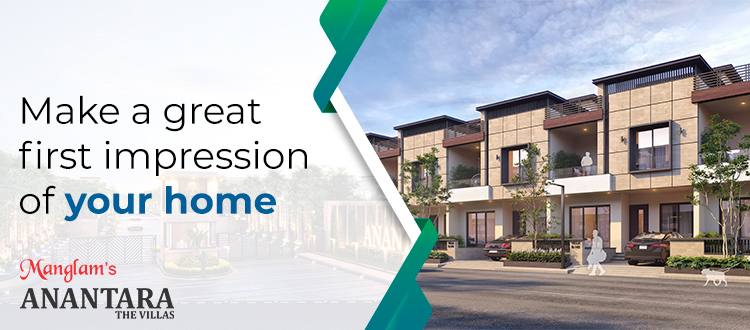 Make a great first impression of your Home
There's a common saying that you never have a second chance to make a good first impression. As human beings, we have a natural propensity to judge something based on our first exposure to it. It's not enough to make a strong first impression; you also need to leave a lasting one. There is no clearer indicator of your character, habits, and lifestyle than the Villas in Jaipur you keep. Guests' first impressions of your house are, in effect, their first impressions of you.
Here are some suggestions for making an excellent first impression and, more importantly, a lasting one for your visitors.
Lighting
Light has long been a symbol of heightened feelings, thoughts, and attitudes. Dissatisfaction, melancholy, and isolation are all conveyed by a dimly lighted house. It is crucial to flooding your interiors with light since it is the first thing guests will notice when they enter your house.
Sunlight is without a doubt the ideal source of illumination. However, if the layout of your Luxury villas in Jaipur doesn't allow for a lot of natural light to enter, installing electric lighting might be a terrific alternative, especially if it's environmentally friendly. However, the villa art Manglam's Anantara allows natural light to enter which is good for your house.
On the other hand, if there are parts of the room that you don't want your visitors to look at, then you should turn the lights down. In such cases, it's advisable to investigate means of light diversion, reflection, or obstructing.
Scent
The way a house smells may have a major impact on first impressions. Why? Because there are few things more comforting than a house with a pleasant aroma. All it takes is one nice aroma to trigger the release of endorphins and other feel-good chemicals in the brain, resulting in an instant uptick in mood and a sense of calm. Natural solutions like essential oils are preferable to artificial, processed means of infusing the same odours, and this includes the ideal technique to enable these scents.
Furniture
As the single most important component of any living area, furniture demands attention. You can make a major style statement with a few well-placed furniture items, and they'll help establish a mood for the whole room of your 4 BHK luxury villa in Jaipur. Since the pieces of furniture you have are a reflection of who you are and what you value, this is also an excellent place to showcase your personality and hobbies. It's great to have several pieces of furniture and a wide selection, but don't go crazy or your space will seem cluttered.
Nature
If the interior of your villa on Ajmer Road is lacking in energy, a little bit of nature may bring it back to life. Planting flowers and plants throughout the home, particularly in the unused corners, is a great way to bring the outside inside. The psychological benefits of nature's greenery are like icing on the cake. Having elements of nature in your Luxury villas in Jaipur is a wonderful way to show appreciation for the world we live in and will enhance the aesthetic value of your home as well as evoke positive feelings in your visitors.
Keep in mind that every guest who enters your house will form an immediate impression of you based on their appearance, so always show your best face. A villa in Jaipur with large rooms on the inside, top-notch features on the exterior, and the soothing presence of nature all around is the best option if you want to make a bold statement. 4 BHK luxury villas on Ajmer Road in Manglam's Anantara come with all the bells and whistles you need to wow your visitors in style and comfort.