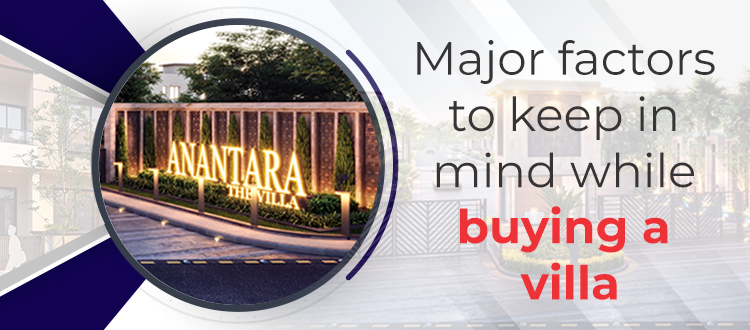 Major Factors to keep in mind while buying a Villa
Manglam group is a renowned name in the real estate sector and it brings to you a whole new range of Luxury 4 BHK Villas in Jaipur with Manglam Anantara.
Located away from the busy urban area of Jaipur, it provides for a calm living.
Following are the advantages of choosing Anantara Villa as your home:
An essence of Greenery accompanied with peaceful living: Lush Green atmosphere contributed by presence of 1.5 acres of private garden and Landscape multiple gardens, provide a beautiful and picturesque abode to be in. It has a community temple and a meditation centre providing for an opportunity for residents to gain an inner spiritual experience.
Following Vastu Shastra in construction of Villas: From a religious perspective, a vastu compliant home brings good fortune and happiness. All villas at Anantara are built on the design of ancient Vastu Shastra.
3.Strategic Location: Villas are located in close vicinity to the city, near topnotch educational institutes and corporate offices in a not so densely populated area. They are located near SEZ and industrial area and have an excellent connectivity with Vaishali Nagar, Mansarover and Nirman Nagar, the popular areas of new Jaipur.
High value social infrastructure: The amenities provided for Anantara Villa owners include a luxurious club house with indoor sports facilities, which is easily accessible and well managed. It has a separate play area for kids and open badminton court..All major schools and universities are in close proximity to it.
Secured Premisis: One of the most spacious and biggest villa communities, these villas in Raipur offers ample security and safe environment.24/7 security with guards CCTV installations at every nook and corner of the area are added attributes.
Clean Environment: Away from the busy urban culture, these villas at Ajmer Road Jaipur are a fine example of suburban living allowing for residents to enjoy a relatively cleaner and less polluted environment. Fresh air becomes a co-habitant of residents. A distinct garbage collection system is available which ensures proper hygiene.
On demand Services: Intercom services are available round the clock in emergency situations. Plumber and electrician services are also available on need basis. The homes here have future technology enabled systems which gives them a tinge of modern villas. There is 100 percent power backup for common premises.
What are you waiting for then? Book your villa at Manglam Anantara now, to cherish beautiful moments of a precious life forever.