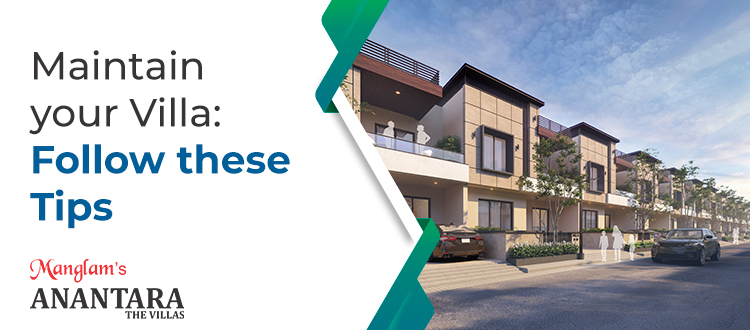 Maintain your Villa: Follow these tips
It may be difficult to keep up with the everyday house cleaning and home upkeep, particularly when you're a first-time homebuyer. When it comes to keeping clean Villas in Jaipur clean, time isn't everything. It doesn't have to be a burdensome experience, but it can be. Starting with the fundamentals is a good place to start, and then you may progress.
Let's begin by looking at the space.
Make the bed first.
It just takes a few minutes to make the bed, but the difference it makes is enormous. Keep your bedding as simple as possible and swap out your sheets and covers on a regular basis to maintain a sense of freshness.
Get rid of the garbage
Toss everything you don't need on your nightstand, study table, etc. It will aid your ability to focus and get things done. If you want to liven up your desk a little, consider placing a tiny plant pot on it to liven it up a bit more. These are a few tips for keeping your room clean and organized. Cleaning the room, and windows, and dusting on a regular basis can help keep your 4 BHK luxury villas on Ajmer Road looking fresh.
Let's now have a look at some of the more routine tasks:
Unstuck a sluggish window
Leaving a window closed for an extended period of time causes dirt to collect, making it harder to remove. Even if you're not a rocket scientist, a little amount of oil or an even better lubricating solution can help you get it open. Once the window is moving again, you should clean it periodically.
Cleaning and sanitizing the cabinetry
Even though it's inconvenient when the cabinet door won't shut properly, we prefer to disregard it. It would make a huge impact if we set things like this.
The appliances should be serviced on a regular basis.
Servicing appliances such as your refrigerator and microwave on a regular basis can help them last longer and keep your house clean and odour – free as a result.
Unstuck the doorknob
Locks may get clogged with dirt and dust over time, causing the mechanisms to stick and become less reliable. If the lock is stuck, you may pour some dry lubricant in there and get it to release itself.
Repairing the leaking toilets
Damage to the bathroom floor and premature deterioration of the toilet's interior workings may result from water seeping from your flush tank. If you're unable to address the problem yourself, call a plumber.
To spruce things up, use paint
Re-paint the inside and outside of your Villa in Jaipur and let the colours do the talking. If repainting the whole home is out of the question, you may still touch up the paint as needed.
In the long term, regular home maintenance will help you avoid costly repairs.  The Villas on Ajmer Road have all the amenities around that will help you in maintaining the luxury of your life