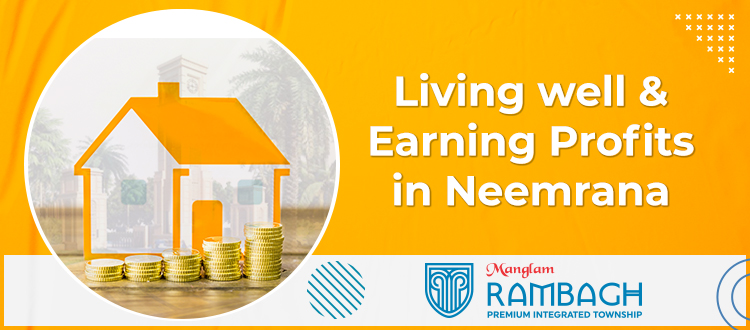 Living well and earning profits in Neemrana
Are you looking to live in a peaceful area where you can explore many spiritual and aesthetic dimensions of life as well as choose to open up a small business establishment?
Then Manglam Rambagh is the appropriate option for you. There are various sizes of residential and commercial plots available for sale in Neemrana. Situated almost at the midpoint of the Jaipur- Delhi highway, Manglam Rambagh offers ever-extending expanse of showrooms and shops. An array of international and national brands in the state-of-the-art mall proves to be a matter of delight and happiness for shopaholics. If you are a shopaholic, then Neemrana is the right place for you. Manglam Rambagh is an iconic development in Neemrana, destined to change the very concept of a luxury lifestyle.
Manglam Rambagh offers residential plots which give you a space to enjoy a wonderful homestay. Besides, the commercial property in Neemrana is available for shopping areas, recreation centres, and office spaces that would prove to be a high-quality benchmark for a business in Neemrana. As an investor, the place is vested with all the modern amenities both for residential and commercial properties and favourable surroundings to undertake a novel business innovation idea and a wonderful place to live amidst beautiful surroundings.
Residential and Commercial Plots for sale in Neemrana are located at the upcoming Delhi- Mumbai Industrial Corridor which can prove to be of high economical value in the coming years. It is going to be a site where profits can be enhanced for the prime industrial location as an added advantage. It is supporting its economically viable existence and a leisure-filled residential experience by being present in Delhi–Alwar Regional Rapid Transit System which is a rail corridor connecting Delhi, Gurugram, Rewari, Neemrana, and Alwar, away from the busy urban life. It has been developing as a Japanese Zone lately.
The array of malls and retail shops already present can complement as a source point of motivation for the idea of setting up more business shops. Additionally, the presence of an international cargo airport nearby can prove to be an added advantage to enhance business activities in Neemrana as well as provide a great means of transportation for people to people interaction.
Property for sale in Neemrana is surely going to be of the highest benefit and will be the upcoming headquarters for corporate, thematic hotels and lounges.