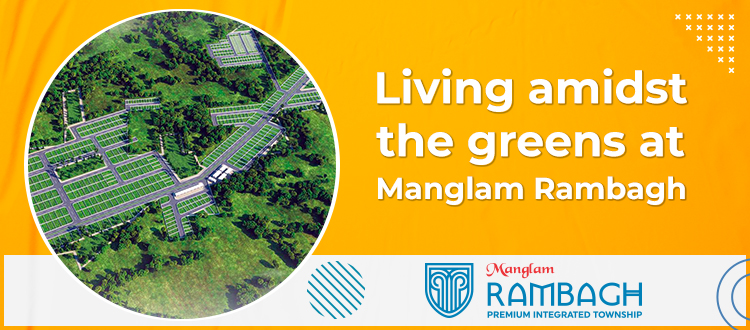 Living amidst the greens At Manglam Rambagh
Are you a home seeker who wants to build the house of his dreams amidst the lush green environment, which overlooks the beautiful surroundings and fills you with feelings of optimism and grandeur and peace and serenity? Are you looking to reside in your dream home where life seems enticing and enthralling through views, which render a sense of relaxation and leisure you? Then plots in Neemrana can prove to be of immense value to you.
Located on Jaipur- Delhi Highway, away from the urban hustle and bustle, the environment around gives a sense of tranquility to its residents. The township in Neemrana has both residential and commercial plots. Accessible easily through Artery lanes, which are filled with Lush Greenery, the area around gives a sense and feeling of high aesthetic and spiritual gist. It is regenerating and renewing to stay here. Surrounded by greens, it is a comparatively cooler area to reside in especially when scorching heat tears the body, directly. Featured with European Architecture, has plots for sale in Neemrana which provides you with a feel of living in a majestic and grandeur environment.
At Neemrana, your dream house can be built possessing a protected layer from pollution as there are abundant green spaces that act as a purifying element for the residents. Residents can cherish a sense of responsibility towards the environment as they are expected to take charge of their surroundings, and water the plants they grow inside their dream homes, inspired by the lush green environment around them. The contentment of living in calm surroundings is surely going to become a reason and cause of fulfillment of their self-actualization needs, which are regarded to be of high significance in Maslow's Hierarchy of needs and thus, are vital for the development of humanity as a kind, liberal and loving soul.
In modern times, the instances of sadness and depression have increased to a great level, therefore it has become important for people to enjoy and relax. While the urban life of a common man is full of business and there is no time left when they can enjoy nature with their loved ones, the property for sale in Neemrana is a place where residents can build a home of their choice and dream and cherish the surroundings around them, resulting into the rejuvenation of mind, body, and spirit.
What do you wait for then? Choose plots in Neemrana and enjoy a green stay!