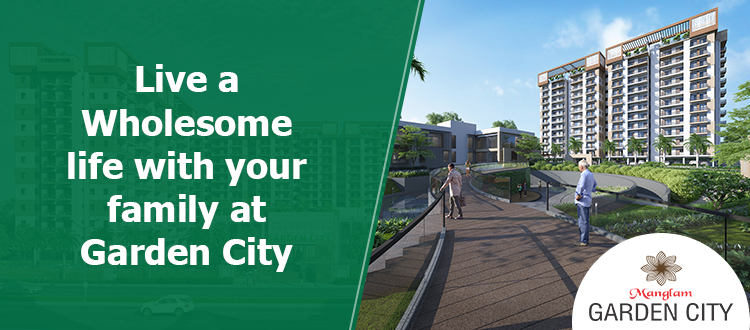 Live a Wholesome life with your family at Garden City
Life is a roller coaster trip full of surprises designed to set us up for a successful and fulfilling future. While you and your surroundings are always evolving, home is where you'll always find a place to call your own. Having 3 BHK in Jaipur is akin to realizing a lifelong dream. Because of its ideal climate, convenient transportation, and position as a center for higher learning and professional development, the city is, without a doubt, the perfect location to call home. Here you'll find the guidelines for finding and purchasing a home that will help you feel more at ease in your community and closer to your loved ones.
Increasing Love and Understanding within Family
To begin, we feel safest around our loved ones. It's enough to know that we have someone to return to make us feel whole. When you choose the exciting lifestyle offered by Manglam's Garden City, a 3 BHK apartment in Mansarovar Jaipur, you have access to a world of conveniences and up-to-date dwellings. If you and your family are looking for a place to live in Jaipur, look no further than the luxurious 3 BHK flats in Jaipur Mansarovar Patrakar Colony
Garden City is one of the city's most prestigious developments, and its residents enjoy a high standard of living as well as quick and easy access to the city's major IT hubs and other parts of the city. As a result of the reduced need for transportation, you'll have more time to spend with your loved ones at home, further demonstrating the theory that having a place to call "home" does, in fact, strengthen family bonds.
Get in Touch with Nature and Relax
3 BHK apartment in Mansarovar Jaipur is designed to maximise the inflow and outflow of air, light, and space. Every house should have plenty of windows to let in natural light, which creates an atmosphere of comfort and peace.
Garden City is one of the finest high-end housing complexes in Jaipur, and it also happens to be an excellent place to live healthily. The project is situated in the most happening area for working professionals and features a swimming pool, a kiddie pool, outdoor table tennis, a gym, a multipurpose court, and a beautiful view to enchant your day with positivity. Garden City is an excellent option for new construction of flats in Jaipur.
Ease in Connectivity
Garden City's high-end setting and proximity to important transportation nodes, business districts, and cultural institutions have made it a popular destination. Furthermore, with the major attractions of Mansarovar in close proximity, residents of the area find their commutes to other parts of the city very convenient. Because of the elimination of connectivity problems, life in the 3 BHK flats in Jaipur Mansarovar Patrakar Colony can move at a much faster pace.
The 3 BHK flats for sale in Jaipur at Garden City seamlessly integrate a tranquil home life with thriving industries and urban conveniences. This lovely home is a great place for you and your family to call home. Manglam's Garden City is a residential paradise and a major center for working professionals. If having a 3 BHK in Jaipur has always been a dream of yours, now is the time to make it a reality at Manglam's Garden City.