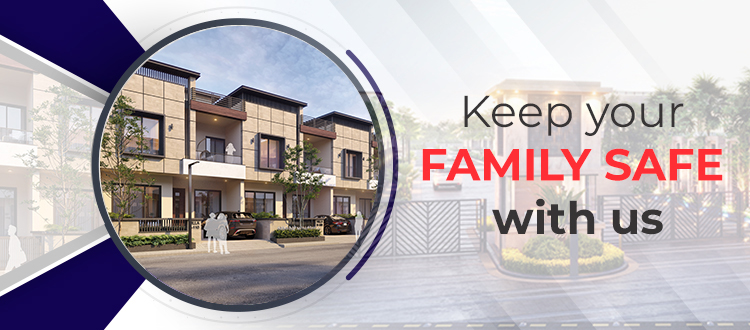 KEEP YOUR FAMILY SAFE WITH US
While buying a house, people always give prominence to infrastructure and amenities.
One important factor that always skips their mind is security and safety.
The most important factor should be your family's security. Those carefree smiles and laughter of your family matter and add additional essence to your lifestyle.
Manglam Anantara offers luxury 4 BHK villas on Ajmer Road with a gated community and offers 24*7 round-the-clock security. Valuing your security the common areas and boundary walls have been installed with multiple CCTV cameras for surveillance and intercom services to establish extra security on the campus. Your safety is non-negotiable to us.
Let's look at some of the factors to keep in mind before buying a villa to have a secured and safe living with your family in your future home.
Security guards:
Security is the topmost concern of any real estate property. Well-trained security guards from reputed security companies will keep intruders from getting into the society and maintain who can enter into the society, keeping residents safe from unwarranted intruders.
Intercom Services:
Intercom Services are a form of two-way communication service that advances your home security to a whole new level.  Intercom Services adds comfort and security to your lifestyle as you can answer the doorbell without having to go outside and can even keep a check on who can enter your abode and who cannot without having to unlock the door.
Earthquake-resistant:
Before buying a property one should make sure that the property can withstand an earthquake. Along with it, one should also make sure that the builders have used good quality materials for construction to maintain the quality of infrastructure.
Fire safety:
Residential communities should be well equipped with fire extinguishers and sprinklers. The safety instruments should be installed in common spaces or the homes of residents. The residents should also know how to use them.
Kids safety:
Children are vulnerable and more prone to accidents and can get injured. Housing society's areas like swimming pools, kid's play areas, and rooftops should have security in place and first aid boxes.
Visitor's book:
Residential societies have a regular flow of visitors, maids, laborers, outsiders, and workers. The entry and exit of these visitors should be monitored to maintain the protection of the residents. A "book of visitors" should be maintained by security guards to keep track of all the people entering and exiting the premises.
Before buying a house or a luxury villa property on Main Ajmer Road, keep these aspects in mind and check whether society has a proper security system or not. Your security is our topmost priority.
Manglam Anantara offers magnificent 4 BHK luxury villas in Jaipur, opposite Pink Pearl, Ajmer Road. Here you can spend quality time with your family carefree and create special moments in the comfort and safety of your home. This luxury villa project offers great amenities to upgrade your lifestyle within the secured gated premise.