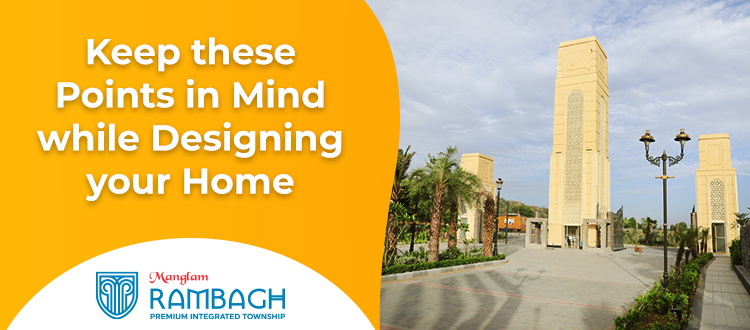 Keep these Points in Mind while Designing your Home
Designing a home is just as much of a tedious task as it is an interesting endeavor. Since designing your home from scratch requires land first and obviously, you would want it in a safe and located at a prime location then you must consider buying the property for sale in Neemrana offered by Manglam Rambagh. Now, coming to designing your home, here are a few factors to keep in mind when you begin the journey of designing your home.
Visualize
You can't kick off the home-making plan without a visual in your head. The process can't be started unless you have some kind of an image of what your house will look like. Having an image of the general layout along with some particular elements here and there will make the following steps easier.
Prioritize
Once you have listed elements that you want to incorporate into your home, classifying and prioritizing becomes easier. Prioritizing what is more important for the home interiors, comfort needs, and accompanying extra features will make the budgeting smarter.
Budget
Once you have your list and priorities, forming a set budget and sticking to it becomes manageable.
Open Space
When we think of a house design, we think of the décor, furniture, and designs that fit well, but we miss considering any open space. Equal importance needs to be landscaping as it is an essential part of the design along with a well-decorated interior. If you are into open spaces then plots in Neemrana are ideally located and the large areas of plots allow you to be creative with your ideas.
The Right Lights
Lights have a primary influence on the mood of a person and the ambiance of a room. Besides electrical lights, giving way to natural light in your home can bring a sense of positivity and vibrancy. Regardless, choosing the right lights is one factor to keep in mind when designing a home.
Personal Touch
And, of course, the place will just remain a house and might never become a home unless the design reflects the owner's personality. Having a personal touch in the form of photographs, art pieces, showpieces, or artefacts that hold a personal value or interest will bring the living space to life.
Functionality
Of course, the external appearance of property matters and makes a difference, which is why we design them in the first place. However, many people focus only on the show and forget to incorporate functionality and comfort into the designs. Functionality and design go hand in hand and should be considered at the same level.
Think Green
Plants, yes but thinking green also refers to eco-friendly elements. Think of ways to incorporate natural fibres and materials.
Home designing is a pleasurable engagement but requires organization, patience, and creativity.  And for all these factors you would require a good piece of land located in a secure and serene location such as the plots in Neemrana offered by Manglam Rambagh. Since we have been and continue to build luxury homes in India; we believe the mentioned factors are primary when it comes to designing a home while also ensuring a smooth journey!