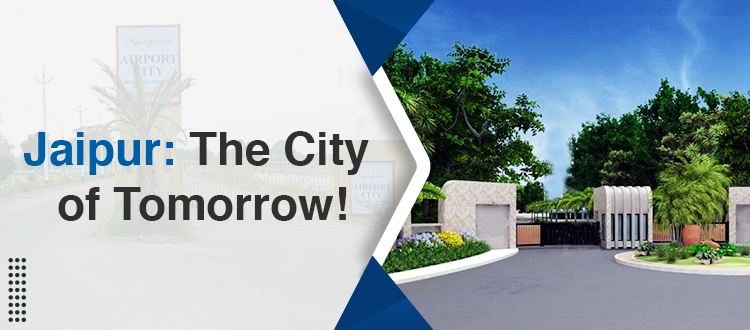 Jaipur: The City of Tomorrow!
Jaipur is an upcoming hotspot for the real estate market.
The city is known for its heritage and royal factors and attracts people not only for holiday vacations but for the living. A city is an emerging place for all who want to invest in the property. The reason behind the enhancement in real estate value is the development of SEZ area, IT companies', connectivity, and many more. All these factors are contributing to the development of Jaipur as the city of tomorrow.
So, make your smart move and invest today in the property in Jaipur.
Reason for investment: Jaipur is a metro city and also developing as a smart city. Companies like Honda, Coca-Cola are shifting their operations in Jaipur. Moreover, Infosys, Genpact are some major IT companies facilitating operations from Jaipur. Thus, such aspects are considering Jaipur as a favorite place for investment and many people are moving to the smart city.
Connectivity: The most important thing that person seeks before the investment is connectivity. If you are choosing a property, then you should look at the route's connectivity. Metro, buses are some major aspects of connectivity among different areas. The residential property groups are developing their properties at the most convenient locations so that everyone could easily reach.
Emerging Hub: From tourism to IT, everything is under development in Jaipur. Some big companies and educational institutes are coming to Jaipur for their complete setup. Moreover, some big hospitality service providers are also entering Rajasthan like Holiday Inn, Starbucks, Hilton, etc. Hence, it strengthens the tourism sector of Jaipur as well. Thus, you will get more opportunities for future perspectives.
Jaipur is the city of tomorrow! Yes, the statement is correct and appropriate as people are residing and shifting to Jaipur to get a peaceful life. If you want to get a peaceful life, then you should purchase a property in Jaipur. Airport City by Manglam is the best property for investment where you can construct your dream home. The plots are available in various sizes and provide multiple facilities to you. Choose your preferred size land and develop your home.