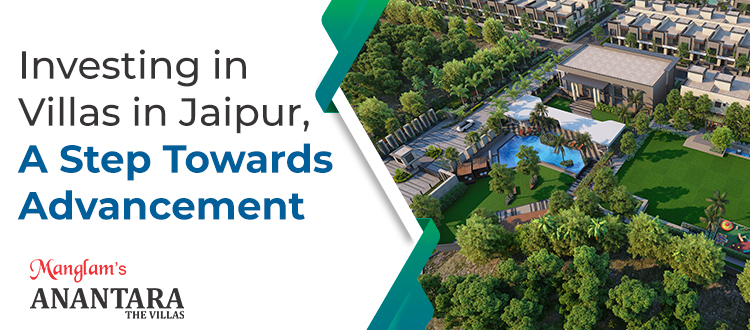 Investing in Villas in Jaipur, A Step Towards Advancement
Buying a villa in a city like Jaipur is a dream for many. Jaipur is not only the prime real estate hub but a place for a dream home for many. For a decade or so, it has continuously catered to the diverse desires of multiple migrants moving to Jaipur in search of better living conditions. Manglam Anantara, a project by the very renowned Manglam Group is one such project that has taken over the commitment to serve exceptional residency services to the people of Rajasthan. They offer beautiful and elegant 4 BHK luxury villas on Ajmer Road that perfectly fit all the requirements of the residents while filling their lives with extravagance. 
Investing in a beautiful villa in a city like Jaipur will help if you benefit from the following features and amenities.
No Constraint On Availability of Space: 
The villa in Jaipur by Anantara is thoughtfully developed to offer ample spaces to the residents. They can enjoy their coveted freedom while living in an apartment that assures personal stretches for the residents. 
Nestled in Nature: 
The luxury villas serve as an integration between beautiful modernized living spaces and the abundance of nature. The villas are surrounded by 1.5 acres of landscaped multiple gardens that add a refined form of tranquility to the lives of residents. 
Sustainable- Inside Out: 
The one best part of living in one of the 4 BHK luxury villas on Ajmer Road by Manglam Anantara is that it is developed with full regard for sustainability. With the growing threat to nature, sustainable housing is the new demand to care for nature. If you are ready to embrace a nature-friendly lifestyle, Manglam Anantara is perfect for you. 
Privacy- A Must: 
Villa living is all about privacy. You can enjoy living in a coveted space, enjoying your life without having to share your space with anyone in solitude. The 4 BHK luxury villas on Ajmer Road are thoughtfully designed to offer utmost privacy with maximum space utilization. 
The luxury villas on Ajmer Road by Manglam Anantara are beautifully designed and developed to fill the lives of residents with convenience along with abundance. The villas are built on a promise of passing on the trust of the group forward while making them fall in love with their residence.