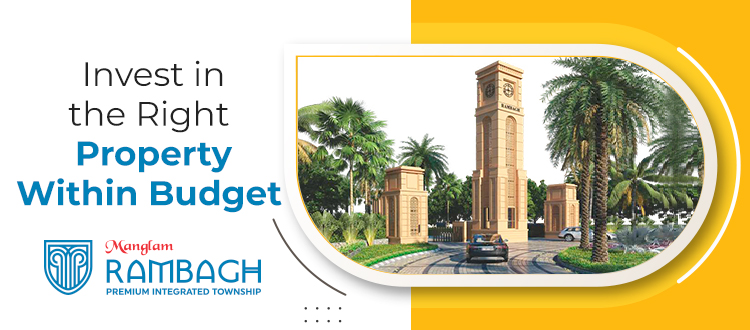 Invest in the Right Property Within Budget
Investing in real estate can especially be daunting for first-time buyers. There are plenty of options in the market to pick from. Selecting a property that falls within the budget can be tough. Researching the market can help you build a better understanding of the market and help you find the property that fits your budget. Manglam Rambagh, an integrated township in Neemrana offers residential and commercial plots in Neemrana, a perfect location for investment. Finding a property that falls within your budget is a task that needs work. Let's find a way to ease the process for you.
Decide The Location:
First and foremost, pick a location you want to invest in. Location is an important factor while buying a property. Remote areas will provide you with cheaper properties in more peaceful locales while property in the city near your office will be a bit expensive but will place you near your work. Pick a location where you want to reside before the search begins.
Calculate The Budget:
The next step to buying the right property is calculating your budget. Seek help from a financial advisor and learn about home loans and other factors involved. All this knowledge would help you make the best choice for your property hunt.
Analyze The Market Trend:
It is important to understand the prevailing market and various aspects like market trends, current property values, and value comparison before buying a property. Pursue consultation from a property advisor and don't trust a broker blindly. All of this will help you stay informed and make the most profitable investment decision.
Size And Type Of Property:
Decide what kind of property you want to buy. The market has several property options, from plotted developments to residential villas. One can buy a plot for sale in Neemrana in plotted developments like Manglam Rambagh. The plots in Neemrana allow you to build your dream home from scratch according to your requirements and desires.
Know Your Needs:
Buying a property does not just involve budgeting and searching for a beautiful structure. The property should also satisfy your needs from your investment. Understand your purpose in buying a property. If you want your dream home or you are buying a property for future investment, choose accordingly. Pick a property that serves your intent of buying that property.
Clear Your Depth:
Last but the most important factor is to clear all your debts and ensure a positive cash flow in your account before buying a property. This will help you get your home loan easily. Knowing how to maintain your expenses will make you a successful real estate investor.
These were some of the most important factors to keep in mind before buying a property. If you feel confused or uncertain about investing in a property, get advice from a property advisor. Stay up-to-date on market trends and maintain your budget. Plotted developments like Manglam Rambagh offer plots for sale in Neemrana that ensure promising returns in the future. Also, the plots in Neemrana are the perfect locations to build your dream home surrounded by lush greens and away from the hassles of city life.