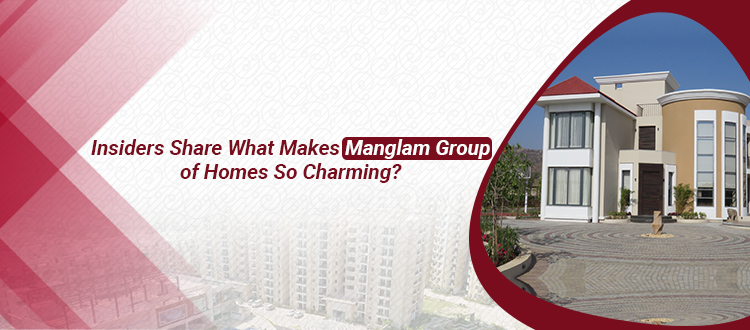 Insiders Share What Makes Manglam Group of Homes So Charming?
Who can better dictate the story of a home and its vibes than the one living in there? That is how there are countless residents associated with Manglam Group of Homes who want to share their experiences of finding a perfect place for themselves where they want to live forever.
Story of Mr. Mudit Goswami & Mrs. Priyanka Goswami
We have always adored the time we spend with our daughters at home, but after getting shifted to Manglam's Ananda, our lives have changed completely. Rather than staying busy in our daughters' day-to-day activities, we have also begun to focus on ourselves. And now we can proudly say that we're growing incredibly as time is passing by. Due to a friendly aura all around, we're now able to understand each other better, and there are no other flats in Jaipur which could do the same for us.
Story of Mrs. Shivani Agarwal and CA Lalit Goyal
My concept of living life has always been surrounded by the thoughts of work and my profession. I had totally lost myself in my work, and I didn't even realize that my work was consuming my personal life so much and was upsetting my wife tremendously. I wasn't even able to give time to my friends due to this workaholic habit of mine. But as soon as we shifted to Manglam's Coral-10, I used to get myself indulged in the amazing aura the property proposed. We began to celebrate various festivities with other members of society, and each day began to feel like a new excitement. This is how I realized what I was missing out on in my life, and I changed myself. Now my wife is more than then happiest to see the new version of mine, and I am very happy to see her content.
Story of Mr. Shreyansh Sharma & Mrs. Rimpi Sharma
Even after the fact that we have been married for years now, we always wanted to live with a spark of a new marriage. While following this idea, we decided to change our home so that by changing our surroundings, we may bring new flavors to our lives. And we chose Manglam's Ananda as our new home. There are the flats in Jaipur that never cease to amaze, and the idea of shifting here worked superbly well for us. Due to getting us indulged in a pool of activities, we brought excitement back to our lives. Also, we began to focus on our health, and by keeping ourselves fit, we added a new spark to our relationship.
These are only a few of the stories that the residents of Manglam Group share. The stories, excitement, and fun can never come to an end with the incredible services, and ambiance Manglam Group offers to its residents.