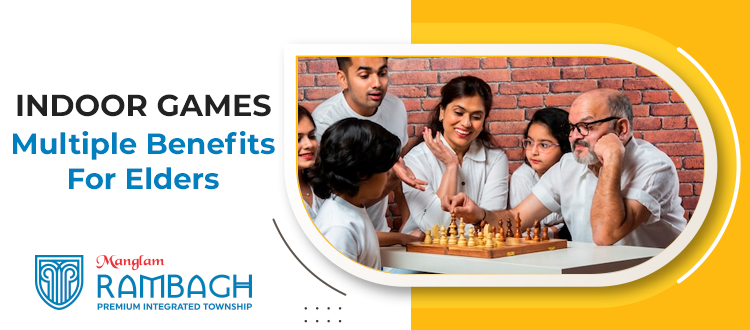 INDOOR GAMES: Multiple Benefits For Elders
Involving in outdoor and indoor games has always been a great way to spend time with children.
Playing games has great effects on both, physical and mental health of youngsters.
Parallel to this, playing indoor games has a great impact on the mental fitness of elders too. So it's time to wipe off the boards you have at home and play some games with your elders.
Manglam Rambagh is a luxury township in Neemrana that is beautifully integrated to match your needs and conveniences. This beautiful and lavish property in Neemrana offers great amenities like a kids play area and a games room to play some exciting games with your children and elders.
Let's look at some of the ways indoor games affect the mental health of elders.
Reduces stress and brings happiness:
You must have heard, laughter is the best medicine. Playing always includes a good amount of laughter and joy. This helps in reducing stress and fosters good mental health.
Enhance cognitive skills and memory:
Playing indoor games challenges cognitive skills and part of the brain responsible for complex memory formation. These creative indoor games help in building and enhancing cognitive skills in old age.
Keeps cognitive decline at bay:
Playing indoor games keeps brains active and engaged making them more powerful. This is a good exercise for the brain. This leads to a reduction in the risk of cognitive conditions like Alzheimer's and Dementia.
Lowers blood pressure:
Laughter helps in producing endorphins. These chemicals help in relaxing the muscles and increase blood flow thus reducing blood pressure.
Improves immune system:
Playing indoor games increases positive feelings and induces laughter and joy, leading to the release of chemicals that fight stress and boost immunity.
An opportunity to spend time together:
In our busy schedules even if we take out some moments to spend some quality time with our elders, it would make them happy and pleased. Playing indoor games is a great way to spend some time with our family members.
Therapy for coordination:
Playing incorporates the practice of motor skills. Playing makes them move their body parts to place pieces that demand coordination. This improves their motor skills, improving their coordination and agility.
There is no suitable age to play games. One must be involved in some type of exercise for their motor and cognitive skill development and indoor games are the best to have a mental exercise along with fun. Thus, plots in Neemrana by Manglam Group are one of the best choices where you can build your dream home and benefit from amenities such as indoor games.
Manglam Rambagh offers plots for sale in Neemrana where you can have the times of your lives and spend some quality moments with your elders with supreme tranquility and peace.