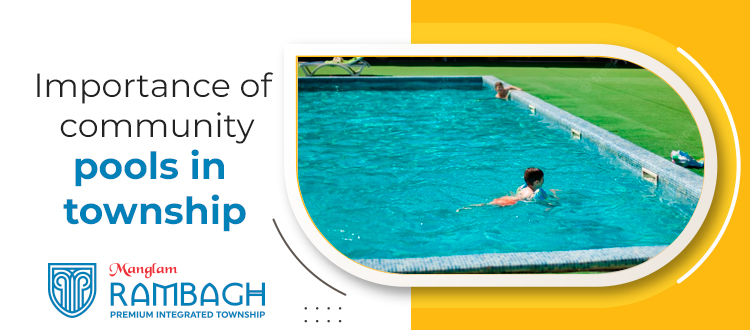 IMPORTANCE OF COMMUNITY POOLS IN A TOWNSHIP
A dive into the swimming pool on a hot summer day has never failed to put people in relief.
The community pool at Manglam Rambagh is one of the best amenities that both the adults and the kids can enjoy. This can give community members a reason to come together and enjoy and build bonds.
Manglam Rambagh is an integrated luxury township in Neemrana that offers commercial and residential plots in Neemrana equipped with the latest amenities like a swimming pool, steam sauna, modern gymnasium, fitness studio, and many others.
Do you know why the swimming pool at Manglam Rambagh is simply the best? Let's look at some of reasons to dip your toes into the pool this summer.
Improves Community Bonds 
A community pool increases the bonds between community members. They can come together and meet at pools and build friendships that otherwise wouldn't have happened. The fun environment can help them build good bonds encouraging more and more members to visit and interact.
Convenience 
A community pool adds healthy fun to the lives of the residents. After a long day of work, a family can drive, walk or bike a short distance to the community pool and enjoy and relax without the worry of traffic. The community pool is an alternative to an unhealthy choice which you might have chosen with your family.
Adds to Property Values 
Everyone wants to live in a community with conveniences and amazing amenities with good community bonding. Swimming pools along with being a luxury amenity, helps members build stronger bonds, hence increasing recreational and property values.
Encourages fitness for all family members 
Swimming is a form of a full-body workout. It is safe for all members of all ages of a family whether having health conditions like knee or back pain or not. It is also a perfect family time.
Increases Public Safety 
Learning how to swim is a lifesaver. Swimming is one of the important life skills and a community pool helps you learn these important skills without having to go anywhere far. 
Fight Childhood Obesity 
Childhood obesity cases are growing in children and to combat that, children need to be involved in fitness exercises. Swimming is one of the best exercises which is a fun way of burning calories and moving muscles. Community pools help children to swim in the safety of the township. This also helps keep children away from social media and junk foods.
These were some of the reasons why the community pool is an excellent amenity for the township and how it helps build stronger bonds and stay fit and away from disease.
Manglam Rambagh offers property for sale in Neemrana that is all set to provide you with world-class amenities and add convenience to your lifestyle. This property in Neemrana comes with ample greenery and social infrastructures like a high street shopping district, workspaces, hospital, and much more for a modern community.