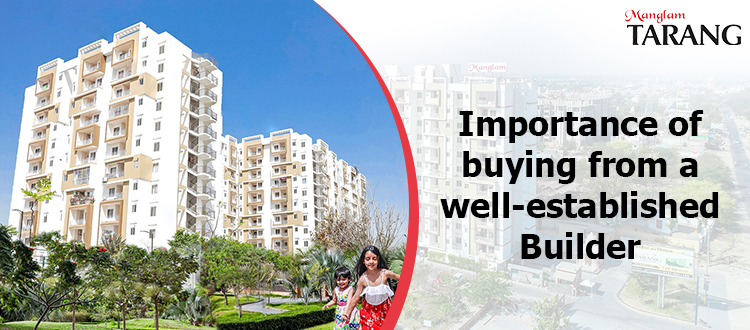 Importance of buying from a well-established Builder
When putting down a significant chunk of your funds on a house, you want to be very certain that you're making the right decision. Getting your money's value out of the real estate and avoiding legal trouble are both essential. Find a reputable real estate developer to work with while purchasing 2 BHK apartments in Jaipur.
The importance of a reputable developer's name brand is discussed in this article.
Site of the Work to Be Done
Reputable real estate developers will always put their money where there is demand. The developments are situated so that residents may easily reach amenities including public transportation, healthcare centres, educational institutions, shopping districts, and more. The best areas are also the least dangerous, making them perfect for families with young kids and women. Additionally, the properties in these places have a high potential for growth in value due to high rates of appreciation.
Constantly high standards
Such construction firms must continually demonstrate their superiority in this area. A reputable designer of recognizable brands will provide you with nothing but the best. They stick to a tight protocol in all aspects of their business, from the materials they source to the quality assurance procedures they put into place on the job site. Expertise would be shared between the engineers and the manual labourers in this workforce. Experts would handle the logistics of organising and supervising. The production of 2 BHK apartments in Mansarovar, Jaipur is a visible example of this. There's a bonus in having developers that are willing to accommodate any consumer requests for customizations.
Complete openness
Reputable developers have a specialised legal staff to keep their business dealings and contracts open and honest. The minute a consumer makes a purchase, it is recorded. Customers are given a detailed cost breakdown that was developed in advance of the transaction. Prices will be in line with what people typically pay for that size and kind of home in that area. You'll obtain the precise location that was listed in the contract of sale, and there won't be any surprises. During business hours, you are welcome to visit the site to see how things are coming along and ask the engineers any questions you may have.
Fast and simple loan processing
When looking to acquire high-end real estate in Jaipur, a sizable house loan is often required. It might take a long time and grow confusing trying to process the house loan on your own. However, reputable construction companies like Manglam work closely with federally chartered banks. To put it simply, they make it easier for their customers to get loans. Lending banks screen the organisations they work with, so this cooperation also benefits their reputation.
Amenities
When you buy high-end condos in Jaipur from reputable builders such as Manglam, you also have a say in the community's facilities. Safeguards, water, and electricity are all available at all times. The fitness centre, pool, clubhouse, park, walking track, etc. are all available to you. Only the most reputable of the city's construction companies provide such high-end conveniences.
Brand name real estate developers like Manglam have dominated the industry for the better part of a decade. We are the company to call if you need help locating high-end real estate in Jaipur, such as 2 BHK apartments in Jaipur. Our success stems from our meticulous site selection processes and our refusal to cut corners throughout the building process.