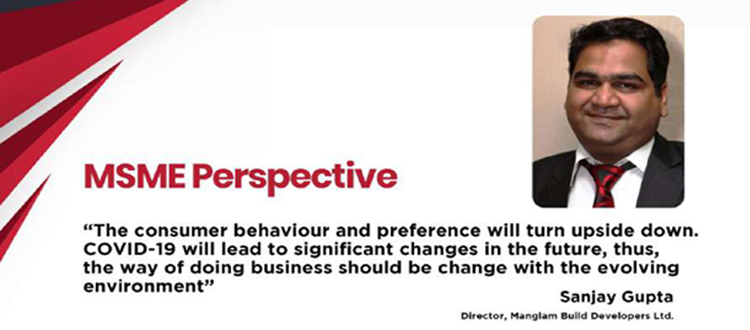 Impact of COVID-19 Pandemic On MSMEs
"The consumer behaviour and preference will turn upside down. COVID-19 will lead to significant changes in the future, thus, the way of doing business should be change with the evolving environment"– Sanjay Gupta
Large companies are majorly facing multiple hindrances in dealing with its stakeholders. Companies are paying the employees even when closed. HUL Decided not to cut a single rupee for their suppliers, service providers, etc. No haircuts. Moreover, the safety of employees and customers is becoming a major point of focus. This is possible because they have reserves of funds, etc that have been built up over the years.
But talking about medium and small businesses, they have to work with thin capital reserves. Excess capital is taken out of the business and applied to personal assets.Small businesses take out the surplus and purchase personal assets instead of re-investing in the business. There are various factors and motivations here.Because of this, they are unable to meet the cash expenses of even the next month.Therefore, Medium and Small businesses need to have a look at how they can build some business reserves to endure such disruptions.
Cinemas could take a big hit in the near future. Entertainment could move home. Consequently, cafes and restaurants might see some increase in business. Many chains are implementing measures like social distancing like lesser furniture, etc, to build confidence to consumers. Similarly, smaller retailers need to send a message of safety. For instance: Have sanitizers, put up a notice of no – COVID positive employee found in the store, maintain social distancing, etc.Since travel and tourism will take a big hit, connected purchases will also shift. Purchases that happened abroad will happen at home. (for example Electronics, Luxury goods, and apparel, etc.,). But travel-related purchases will drop.
For individuals, health and safety will become No.1 on their agenda from the 3rd of 4th place. There will be more spending on this area and a reduction in another discretionary spending.The ticket size of spending will drop for a while. People will spend on cheaper goods than on expensive goods, or delay spending for a while. There will be Extreme acceleration in the digital economy. I.e. Home education, home entertainment, home fitness, etc. Loyalty shock can be seen among people as they will be less loyal towards brands as other aspects will take over. People will switch brands faster due to various other concerns like safety, etc. furthermore, there will be a trust deficit among stakeholders like vendors, customers, employees, borrowers, banks, etc. Banks will have a trust deficit with borrowers, companies will have a trust deficit with suppliers, etc.