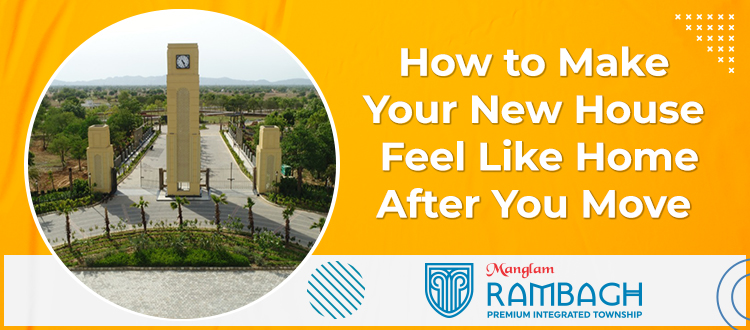 How to Make Your New House Feel Like Home After You Move
Moving to a new home can be hectic as well as emotional.
However, it is a possibility that you might not instantly connect and feel at home in your new home. This feeling can easily deprive you of happiness and contentment, so it is important to feel at home in your new home. But, how can we do so? How can we feel more at home in our new home? We are here to tell you how you can do this. But first, let us tell you about our project, Manglam Rambagh which offers residential and commercial plots in Neemrana that are perfect for you to build the home of your dreams. 
Clean The Entire House
To start with, clean the entire house from top to bottom. A newly constructed home has a lot of dust and clutter. Clean everything up. Dust all the shelves and windows. Along with a tidier feeling, it will make you feel more connected. 
Organize Everything
After you unpack all of your items, start with assembling ideas on how and where you want to put them. Don't rush into it as it can easily lead to creating a mess. Allot the places for all your stuff in your new home on plots for sale in Neemrana.
Arrange Your Bedroom Well
Arranging your bedroom should be your top priority. After cleaning and organizing your home, you will need a space to relax and rest. Also, your bedroom plays a big role in making you feel at home. 
Arrange Your Books on the Shelves
If you are a book lover, nothing more can make you feel at home than a nice reading corner with good lighting and your favorite books. Organize all your books on the shelves neatly and create a beautiful and calm reading corner for you. 
Have a Casual Kitchen Dinner
In your new home, the best way to feel at home is to cook your own meals and eat them with your loved ones. Nothing more can connect hearts and space, as well as food can. 
Set Up an Entertainment Center
Another way to feel more welcoming in your new home is to set up a corner where you can watch movies, play games, and chill. Along with being relaxing, this would help you feel more comfortable in your new home.
Add Some Greens 
Houseplants can instantly add refreshment and calmness to a space. Also, they can make you feel more easily connected. You can add some new plants or some from your previous home to feel more at home.
These were some of the easiest ways you can feel at home in your new home. Your home should make you feel connected and calm. Manglam Rambagh is a township in Neemrana that offers property for sale in Neemrana where you can build your dream home according to your preference and choices.