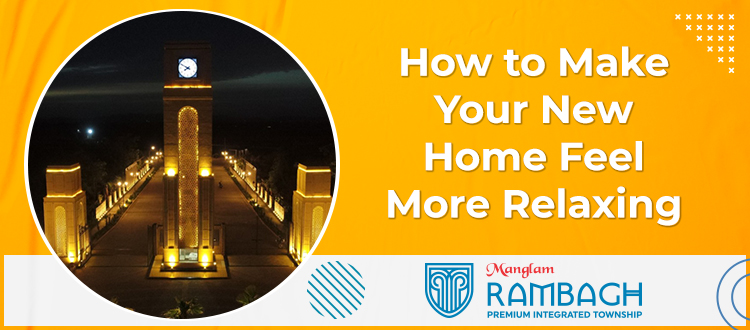 How to Make Your New Home Feel More Relaxing
Our lives have become immensely chaotic.
We are always running, going places without even stopping to catch a breath. Our modern contemporary lifestyle has led us to always stay away from our feeling of serenity. In that case, we barely get time to relax. So, in these haphazard scenarios, all we need is a home to return to at the end of the day which gives us a reason as well as space to relax and be ourselves. Our homes are supposed to be our haven. So, here are a few simple ways you can make your home more relaxing for you. 
First and foremost, declutter your home. Clutter can make your home look disorganized and create a feeling of chaos. To feel relaxed, what we definitely don't need is chaos. So, clean up your home, remove all the clutter and make some room for soothing elements like photographs and freshly plucked flowers.

 
For the walls, use more earthy colors, which means using more relaxing tones. Light hues of blues, greys, and greens are more relating to the atmosphere and can be used for a tranquil feeling. Whites and beiges can also go well for a soothing effect. Stay away from bright colors as they have a more energizing effect.
Natural lighting does wonders to enhance one's mood. Keep your drapes and blinds pulled to allow the natural sunlight to enter. Lighting is a very important part of one's home that affects the mood of the house.
Hardwood floors and soft area rugs can easily make the house look calmer. Use soft textures to create a calmer, soothing, and tranquil space in your home.

 
Keep fresh flowers in vases in your home. Along with aroma, they also provide soothing both visually and mentally.
You can even use white or scented candles in your home. If you are fond of the book, surround yourself with your favorite ones.

 
You don't need to go far to find a space to relax. You can make some small changes to your home and enjoy tranquillity in your own home. Also, the plots in Neemrana are surrounded by lush greens and a clean environment that automatically turns your living spaces into more serene. The township in Neemrana, located on the main Jaipur-Delhi Highway is perfect for you to build your dream abode on property in Neemrana, equipped with amenities that add peace to your lifestyle.