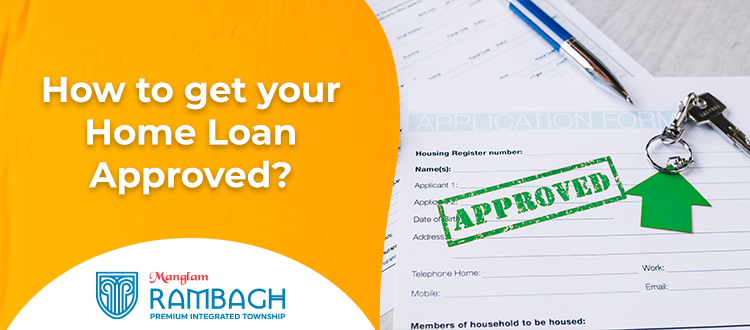 How to get your Home Loan Approved?
The majority of Indian homebuyers finance their purchases using loans. Because a
mortgage is for such a substantial quantity of money, banks go through a careful approval
procedure. Banks are mostly concerned with whether or not the borrower will repay the
house loan on time and whether or not the borrower has any other significant outstanding
debt.
If you are looking forward to buying a property for sale in Neemrana, this post will examine
what has to be done to quickly and efficiently get a house loan approval. First, let's review
the required steps and paperwork for getting a house loan.

What You Need to Apply for a Home Loan
For a house loan application, you'll need the following paperwork:
● Complete and accurate information on the mortgage application.
● Three pictures, passport size
● To apply, you must provide the following documents:
● A photocopy of some kind of identification (passport, voter ID, driver's license, etc.)
● Proof of residency (utility bill, passport, etc.)
● Financial records over the last six months
● Statement of assets and liabilities; Specifics of any additional loans;
The 5 procedures outlined here will make applying for a loan and getting a home loan
approval much simpler. Here are the five actions:

Criteria for receiving a mortgage loan
Can you afford to make the loan's monthly payments and repay the principal by the due
date? Before extending a loan, financial institutions check applicants' credit records and
documentation of their regular income.
The loan application procedure may be streamlined and your approval rate increased if you
are aware of the required minimum wage.
Level Up your first down payment
It is customary to pay a portion of the total loan amount up front in the form of a down
payment to the lending institution. At least 20% of the property's worth should be put down
as a down payment.
A significant down payment may demonstrate to lenders that you are serious about paying
them back the loan amount within the agreed-upon time frame, which might result in a
cheaper interest rate and a longer repayment term.
Enjoy a high credit rating
A person's credit score is a major consideration for loan approval by financial institutions.
Maintaining a high CIBIL score is essential if you want to be approved for a loan. When
applying for a loan, a bank will know your creditworthiness, loan obligations, and maximum
loan amount thanks to your CIBIL score.
Consider using the co-applicant option
You may reduce the length of time it takes to pay off your home loan by having a co-
applicant. Increase your chances of securing a house loan by adding a high-earning co-
applicant, such as your parents or spouse.
A co-applicant strengthens your loan application by showing the bank that you have two
reliable sources of income to repay the loan.
Do yourself a favour and fill out an application
Sometimes, regardless of the kind of mortgage loan, an applicant may be denied approval
due to incorrect information provided in the application. Take your time filling out the
application and have all of your paperwork prepared for the bank's review.
Don't make any typos or other mistakes while filling out the form. If you want to get a loan
quickly, it's important that the form accurately reflects your income and credit history.
The first step in buying a property for sale in Neemrana is to apply for a mortgage loan.
When purchasing a new residence, a Home loan is often required. The home-loan
application procedure might go more quickly if you gather the required paperwork in
advance. If you stick to the outlined procedures, you should have no trouble being approved
for a house loan.