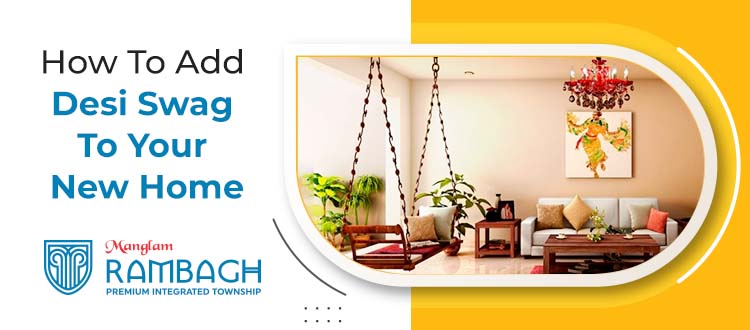 How To Add Desi Swag To Your New Home
Indian Decor is all about colors and intricacies.
Indian decor is also diverse and multi-faceted. More people are interested in decorating their homes in Indian aesthetics and there is no surprise in it. However, implying a well-proportionate approach to decorating your home is crucial. If you have built the home of your dreams on the plot for sale in Neemrana in Manglam Rambagh, and still gathering ideas about what all embellishments you should use to add that desi touch to your home, this blog is for you.
Pick Deep and Rich Colors For Your Walls, Fabrics, and Decorations
Avoid lighter like pastel shades and go for deeper colors like jade blue, red, mustard, purple, and marigold. Steer clear of blacks and grays. Don't shy away from mix-matching and using contrasting colors.
Opt For Patterned and Intricately Designed Furnishings
While picking furniture for your beautiful Indian style home on plots in Neemrana, choose chairs and sofas with curved armrests and while choosing armoires and cabinets, pick those with painting and carvings. In Indian decor, it is also common to use mirrors, ivory, and stone inlays for decoration. For a traditionally Indian space, opt for heavy elements made of solid wood. This will add to the opulence of a room.
Use Multiple Patterns And Textures of Indian Fabrics To Add Authentic Vibe
While picking the fabrics for your curtains, pillowcases, throws, and bedsheets select different fabrics with different patterns with block printing, Kantha-style stitching, silk, bandhani-style dyes, detailed beadwork, tassels, batik, and gold stitching. Using different Indian fabrics for your throws, bed sheets, pillowcases, tablecloth, and runners would effectively add an Indian touch to your home.
Only Pick Traditional Indian Patterns And Designs For All Your Decorations
While picking decorations such as tapestry, paintings, or even table cloths, only pick clothes with Indian patterns. There are varieties of patterns that qualify as Indian patterns like paisley patterns, mandalas (intricate, symmetrical flower designs), or nature-focused prints that feature birds, animals, or flowers. These would never fail to give a desi touch to your home on plots for sale in Neemrana.
The above-mentioned are a few ways you can add a desi touch to your home. Colors and patterns are a big part of Indian decor. If you wish to give your dream home an Indian touch, follow the tips mentioned above. Manglam Rambagh is a beautifully integrated township in Neemrana that offers residential and commercial plots in Neemrana. The plots for sale in Neemrana are perfect to build your dream home with Indian decor added with the convenience of high-end amenities like clubhouses, a swimming pool, and a kids' play area.