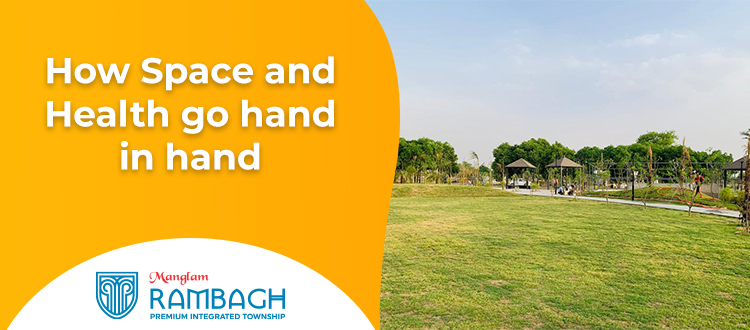 How Space and Health go hand in hand
Everyone fantasises about having a large, extravagant house. Did you realize, however, that having plenty of room to move about is really good for your health? You are probably on the hunt for a property for sale in Neemrana if you are here reading this blog. In Neemrana, India, there is a wide variety of such plots for sale in Neemrana available to buyers who are interested in a more luxurious lifestyle. In this piece, we'll delve deeper into the ways in which a larger dwelling can benefit the health and happiness of people who have loftier goals in life.
Continual Expansion and Happiness
Everyone desires a dwelling that affords them the solitude and peace they long for. Peace, tranquility, and harmony in the home can only be achieved when everyone has their own space and personal privacy. In the midst of our hectic schedules, all we want is to relax and unwind in a tranquil environment. This is precisely what spacious homes provide which can be made on plots in Neemrana, letting you take advantage of the many advantages that come with residing in a serene and beautifully designed setting.
Space to spread out
There are numerous things we do regularly that contribute to our sense of well-being. Children benefit greatly from extra room to run around and explore in the home. Furthermore, it enables you to divide your home into distinct areas for various purposes. As a result, you'll have more room to set up several recreational zones.
You can have a customized space for little ones of all ages in the plots for sale in Neemrana as they need enough play space. You can give your kids their very own playroom if you have a large house with plenty of spare space. It allows kids to play freely and independently, allowing them to learn and develop, while also allowing parents to keep an eye on them without interfering with their day-to-day activities.
Do you ever wish you had a dedicated, peaceful office in your house?
Having plenty of room in your house means you can set up a dedicated workspace, study, or library for use on a daily basis. You can benefit from having a peaceful spot to do what brings you the most joy. If your home is large enough, you can carve out special areas for the things that are most important to you.
Greater space to have Health-related activities
You'll be able to make better use of your fitness regiment if you have a large enough home. Your home gym is just as good as any commercial facility, so there's no need to leave it. Your ability to cultivate a peaceful space conducive to yoga and meditation at home is greatly enhanced by the availability of ample living quarters. If you have a large house that can be built on the plots in Neemrana, you won't have to worry about finding a clear area to do your workouts, allowing you to focus on your health instead.
The health-conscious may benefit much from a large house. An adult may find peace and quiet to practise yoga or work out, while a child can enjoy enough space for play, exploration, and development. Having enough room to move about is crucial if you want to have a long, healthy life. All these benefits can be availed if you register for the property for sale in Neemrana by Manglam's Rambagh and start building a customized spacious home of yours.