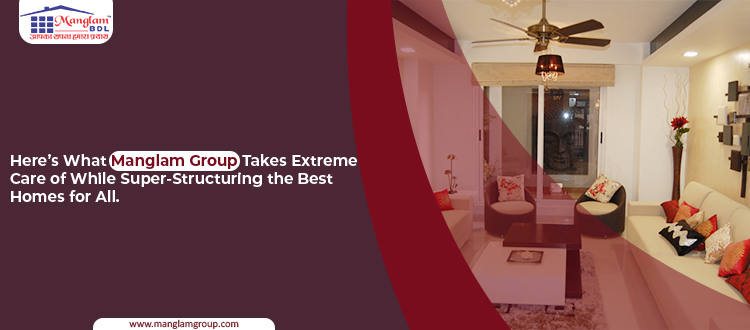 How Manglam Group Takes Extreme Care of While Super-Structuring the Best Homes for All
Building perfect homes for people who have different requirements and dreams isn't an easy task. Even after years of experience in the real estate and construction industry, it turns to be typical for builders to cope up with the ever-changing demands of the market, as well as homeowners. Still, Manglam Group turns to be a dignitary when it comes to offering best homes solutions for people to live in.
Of course, there is not a set procedure to do the same, and this aspect cannot be compared to rocket science too. Still, Manglam Group shares some of the attributes of building super-structures for humans to live happily ever after:
Thinking Green
MG takes special care of making all the homes and apartments amidst lush greens of nature. Knowing the fact that people of all ages grow well in nature, Manglam Group allows homeowners to live in a space that is soothing and pacifying. It turns to be one of the most supportive attributes of offering people the much-needed comfort space they need after a whole day of work.
Keeping the resale Value in Mind
Manglam Group, being associated with the most experienced and well-versed builders, ensure that all of its properties turn to be offering great resale value. To come up with the same, they offer futuristic apartments while keeping all the avant-garde approaches in mind. They make the spaces effective enough to remain valuable in the upcoming times also.
Maintaining Affordable Prices
While creating futuristic homes, Manglam Group doesn't cross any boundaries. It ensures that the home remains advanced but skips using too many upgrades to save it from being overpriced. While keeping the style out of the ordinary, it sticks to all-wise guidelines so that the pricing of the apartments turns to be nominal for the homeowners to afford easily.
Following No Punch List
Most of the builders follow a specific punch list depending on their budget. They include or exclude elements from this list on the basis of their fixed budget. This procedure, anyhow, compromises the quality of the final product. Manglam Group follows a reverse approach while building its homes. It first fixes a quality line and then prepares a punch list mentioning all the essential things to be added. This way, MG always prioritizes quality over budget.
These are some of the aspects of how Manglam Group comes up with incredible homes and spaces at the end of every project. The primary ingredient to attain such perfection is through interaction and understanding the state of mind of the homebuyers on a real-time basis.