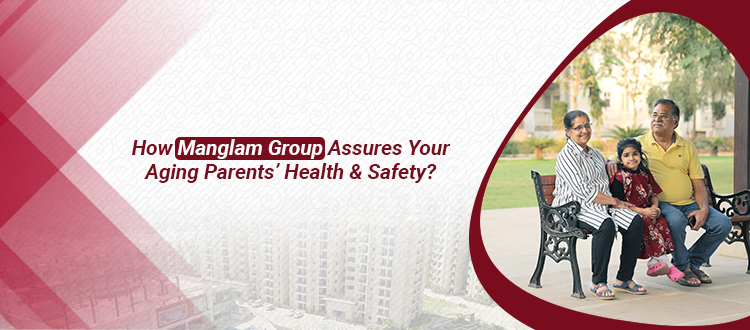 How Manglam Group Assures Your Aging Parents' Health & Safety?
Owning a new home is a different thing, and finding a perfect home for your aging parents is a totally different thing. While you search for a home for yourself, you give priority to luxury and comfort most of the time. But when you search for a property for your parents who're senior citizens or aging, then the factors, like location (should be near to market and hospital), ambiance, and security matter the most.
That's the reason why Manglam Group has come up with featured homes in their societies, which are specifically designed by keeping aging persons in mind.
Let's see how Manglam Group does this miraculous job flawlessly:
By Offering 24X7 Security
Manglam Group has come up with this approach to install security systems which are expert in identifying real-time intrusion so that the responsible person can take the needed action as soon as possible. The most basic form of security Manglam Group proposes are CCTV cameras and video door phones. This way, no one can enter the home of the Manglam's residents without the residents seeing the guests and approving of them. Also, the installed CCTV cameras throughout the building record each and every activity happening within the society campus so that the trouble-maker can never escape if anything unfavorable happens.
By Proposing In-house Grocery Services
Due to being a full-fledged society that helps all the residents in all ways, Manglam Group proposes in-house delivery services to all who want. This is introduced especially for senior citizens who're in the most necessary to avail such services. Be it about expecting door-to-door medical help, grocery services, or any other element of necessity, Manglam Group has it all to offer. This way, the problems associated with going out, searching for transportation, and then searching for the services get eliminated.
By Introducing a Helpful and Friendly Society
While maintaining a society at any of Manglam Group's homes, the staff makes sure to choose each society member carefully. In a quest to form a society whose every member remains ready to help each other, Manglam Group has formed such a family that has gone above only blood relations. Due to this fact, all the aging members of Manglam societies never have to ask for help, and their fellow residents are always eager to remain available for them. Whether their children live with them or not, they never feel alone.
This is how Manglam has it all to offer to all the aging parents so that their children may live happily wherever they are!!