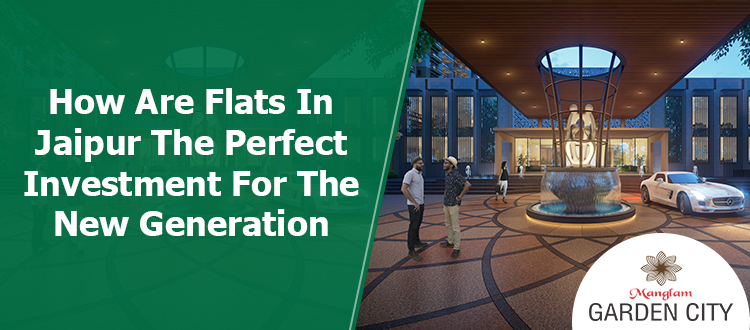 How Are Flats In Jaipur The Perfect Investment For The New Generation
For our parents, grandparents, as well as even their parents, real estate
properties have always been a way of saving up for their children's education,
earning a living through farming, and dowry for marriage. However, millennials
today seem to be more interested in stocks, shares, and everything that can
earn them instant bucks.
With time, working from home is becoming a trend and after the Corona
outbreak, millennials are understanding the importance of real estate
investing. Millennials are interested in investing in their own home rather than
paying rent. Thus, a specified interest of millennials is witnessed in investing
in flats in Jaipur.
In tier two cities like Jaipur, millennials are interested in investing in
apartments that not only offer plenty of comfort and luxuries to them but also
place them in zenith facilities like markets, recreational zones like malls as
well as other facilities.
Manglam Garden City, a beautifully developed apartment complex in
Mansarovar is a perfectly planned project for millennials. Let's name a few
factors in how Garden City is perfect for the new age generation.

1. Trending Lifestyle
While millennials are looking for luxurious apartment projects, Manglam
Garden City defies every other basic apartment project with its
exceptional and new-age amenities. It offers a pool deck, open-air
theater, a well-equipped gymnasium, a cricket pitch, a skating rink,
basketball and badminton courts, and so much more. Everything is
planned as per the desires of the new age of India.
2. Comfort as a Priority
The 3 BHK apartment in Mansarovar Jaipur by Manglam Garden City
is beautifully planned to offer a very comfortable and opulent life to the
residents. The apartment project offers ample amenities like an
extensively equipped clubhouse for daily recreational needs, a
swimming pool, kids pool, open-air theater, wet cabanas, tennis court,
senior citizens area, cricket pitch, tennis court, kids play area and all
other types of amenities that fulfill the desire of fulfilling lives for the
youth.

3. Home Cum Workspace
After the COVID-19 outbreak, working from home has become a new
normal. Thus, the new generation today is looking for a home with
ample space to work comfortably in. Garden City offers the biggest size
apartments in Jaipur making them a perfect investment for the youth
looking for a place to reside as well as work from.
All these factors qualify Manglam Garden City as a perfect investment
for the youth today. The 3 BHK flats in Jaipur by Manglam Garden City
define the epitome of luxury as well as comfort with their world-class
amenities. The biggest size apartments are surrounded by lush green
gardens on all sides and offer a beautiful life for the residents.