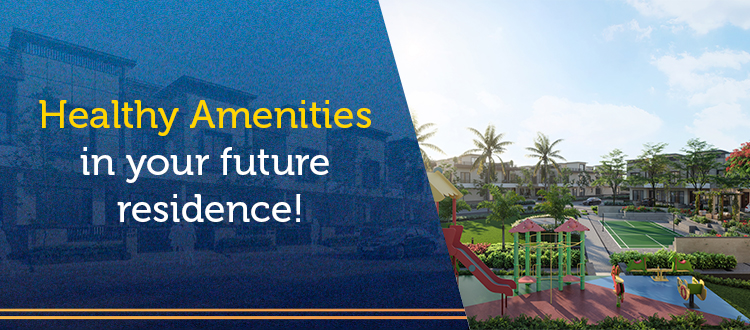 Healthy Amenities in your future residence!
With modernization, people become more and more conscious of their health.
A healthy diet, a balanced lifestyle, workouts, etc. becomes a primary agenda for people. Healthy living has become a necessity for people. People are choosing a luxury property to get desired amenities. Manglam Anantara considers this fact of healthy amenities and developed luxury villa for the residents. Anantara the Villas is a 4 BHK Villa with unlimited luxury amenities like a 1.5-acre garden, badminton court, kids play area, etc.
Manglam Builders focuses on some more amenities that make a property luxurious and keep you fit as well.
Swimming Pool: The first healthy amenity a person is looking for in future residency is "Swimming Pool". Swimming is a great exercise that can be very relaxing and helps in a full-body workout. Swimming helps in keeping a healthy weight and keeps your heart & lungs healthy.
Gymnasium: Modern people want a gymnasium in their township. It is another great benefit for the fitness freak. Gym helps in maintaining a schedule for regular exercise. You will get appropriate equipment & machines so that person can burn calories. It is another important amenity a person looking for in a township.
Landscape & garden: Every builder in the township is developing a wide green space. A well-manicured garden provides a lush green lawn and cheerful aesthetic appeal to keep your mind calm and stress-free. The major advantage of a township is a pollution-free environment and fresh air. ManglamAnantara gives you a pollution free environment with 1.5-acre garden for an aesthetic appeal.
Jogging & walking track: Jogging & walk are two most important thing that makes a person fit & healthy. Regular running and walking, strengthen your immune system so that you will fight with flu. A regular walk and jogging keep your eyes healthy and control the chances of heart diseases, diabetes, high blood pressure.
Taking care of your mind & body through various activities has been crucial for a long and healthy life. Manglam aims to take care of your health at Anantara Villas by providing various amenities. All the stated amenities are available at Anantara that keep you fit and healthy.