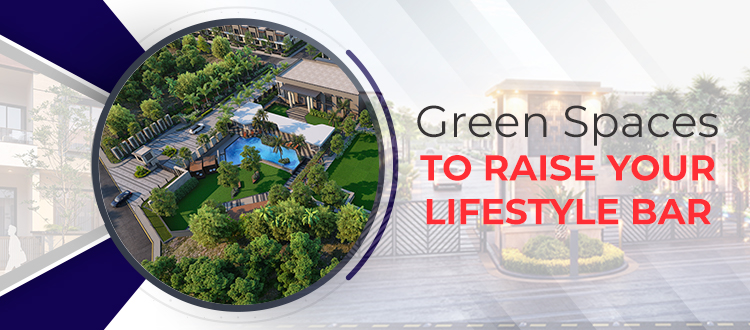 Green Spaces to Raise Your Lifestyle Bar
Nature plays a very significant part in an individual's growth.
People like being surrounded by nature. A simple walk in the greens can significantly boost one's mood and is a great exercise for both, physical and mental health. Greenery greatly affects one's lifestyle. It adds peace, serenity, bliss and also adds to their joy. Surrounded by greens, our brain functions better and is more optimistic. Our ideas and thoughts become transparent.
Manglam Anantara is a premium villa project on Ajmer Road that offers luxurious living to its residents with peace and tranquility with 1.5 acres of lavish private garden. The project greatly emphasizes serving its clients with the most peaceful living among the lush greens. They offer luxurious 4 BHK villas on Ajmer Road that are well designed and developed to meet all your needs and their surroundings and add harmony to your life.
Let's look at some of the ways greens improve our lifestyle.
Greenery improves air quality by absorbing harmful emissions and purifying the air.
Greenery increases the property value. Most of the buyers prefer properties surrounded by ample greens.
Greens add character to the building and improvise the uniqueness of the property. It also defines the community image.
Greenery can be used as a decorative element and adds aesthetic appeal to the property.
Gardens and parks can be a great place to meet friends and spend some quality time with them. It serves emotional, positive, intellectual, and social experiences.
Strategically designed parks with seating areas can be a great place to meet friends and have a good time for aged residents.
Greenery can encourage residents to involve in physical activities like jogging, running, and other exercises.
The greenery in the surrounding helps maintain underground water levels, which is a very important element.
Greenery develops a sense of appreciation for nature in individuals and further inspires them to save, protect and conserve the earth.
Greens play a great role in keeping an individual calm and composed and further nurture their mental health.
Manglam Anantara is a well secured gated community that offers 4 BHK luxury villas in Jaipur. These picturesque abodes come with abundant green expanse and amenities for your entire family. The planning ensures Vastu compliance for an auspicious environment.
Manglam Anantara gives you a chance to own a beautiful villa in Jaipur and lead a healthy and happy life with your loved ones surrounded by lush greens. Anantara is your dream green home which offers the grandeur of free-living spaces and tranquility at your convenience. It is planned to integrate the needs of modern-day homeowners.