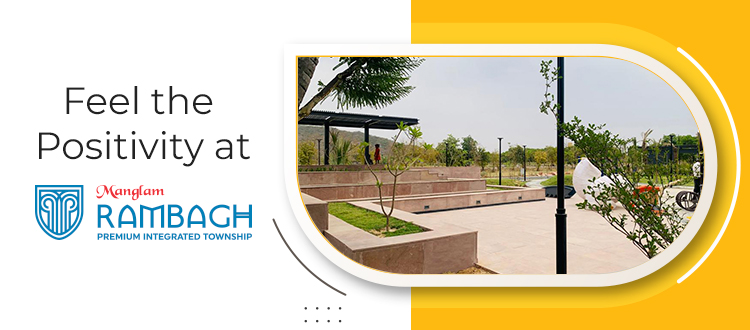 FEEL THE POSTIVITY AT MANGLAM RAMBAGH
For residential homes, featuring a beautiful, pious and serene living that a resident can find a heavenly abode staying on land. With varied amplitudes of artery roads connecting ends with lush greenery, it calls for an aesthetic pleasure to be driven out of the picturesque view of the area. Situated at the midpoint of Jaipur- Delhi highway, it has the benefit of being located at:
A. Neemrana, the emerging industrial capital of Rajasthan, which is also termed as "Growth Catalyst of Rajasthan."
B.At a less density population area.
Nearing highly valuable social infrastructure facilities.
Manglam Rambagh is one of the finest properties in Neemrana which is one of the places where an individual can find various kinds of luxuries, where a resident lives with all kinds of conveniences of high value life, without compromising with his solitude.
It has residential plots of various sizes with an option of plot joining.Here; you can build a house of your dream. Highly flexible designing, a beautiful and optimism generating surroundings, a resident can enjoy other amenities more emphatically.
Aesthetically and spiritually, it is regenerating and recreative as there are multiple options where residents can connect with themselves and discover the little joyous moments together with their families. Manglam Rambagh provides for a full service club house, which provides multiple leisure activities for self growth, contributing to a well managed and high quality social infrastructure.
Kids find a zone of enjoying and cherishing their curious instincts, playfulness and gaiety in the Kids Play area. Concern for healthcare and physical fitness also finds a way in these plots for sale in Neemrana. Equipped with modern gymnasium and fitness studio, residents can utilize these facilities in order to take care of their health.
Residents can enjoy their leisure time in abundant open area.Also, broad internal roads are present for easy comminuting and there are no parking related issues as there is ample of free space for the same. A gist of an English crafted living can be felt in the European Architecture of Entrance Plaza.
Secured and safe environment can be witnessed due to installation of CCTV Camera. It is present as a gated community amidst a busy highway present at a distance.
Overall, a stay here is an experience of a protected, positive, calm, adventurous and of beauty and bliss!
Don't wait for the next dawn! Book your plots in Neemrana with Manglam Rambagh and recreate positivity around you.