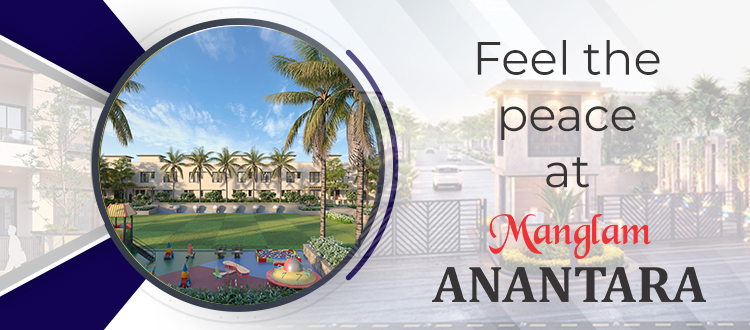 FEEL THE PEACE AT MANGLAM ANANTARA
Manglam Anantara makes you feel immense happiness and affection as its primary motive is to provide a wonderful life and fulfill all the goals of happy & peaceful living.
Anantara makes sure that we provide you with all the luxurious amenities that add comfort to your lifestyle. Here you will get the luxurious 4 BHK villa on Ajmer Road that will add a charm of luxury to your life.
At Manglam Anantara, we have kept a track of all your needs and therefore, these villas in Jaipur, fulfill all your dreams of luxury villa style living along with peace and comfort. The villas are large and define the pinnacle of luxury. The accommodation is excellent and provides an oasis of tranquility.
From comfort to simplicity, these aesthetically pleasing villas have it all.
Manglam Anantara Is Specially Designed For You
Anantara offers lush green landscape, multiple gardens of 1.5 acres with world-class facilities which can make you feel positive and peaceful and add comfort to your life at the same time.
These villas on Ajmer Road Jaipur offer luxurious amenities that facilitate your life in ways and you can have the most fun filled and memorable moments with your family under one roof.
A luxury clubhouse, swimming pool, mini plex, gymnasium, and separate kids play area are some of the amenities provided to add brilliance to your lifestyle.
Manglam Anantara offers you the peace you deserve
This luxurious villa project is located on the main Ajmer Road, away from the main city area. Surrounded by lush greenery, this villa project will surely add peace and solitude to your life.
Manglam Anantara offers amenities like temples, a senior citizen sitting area, and a meditation center. The senior citizen area is intended to add fun and provide an area for elderly people to have quality time with their peer group and enjoy with them. The meditation center is a perfect place to connect with your inner self and feel utmost peace. This villa project provides everything one needs for comfortable and peaceful living with their loved ones.
Buying the house of your dreams that offers you all the amenities and comforts with a peaceful living is a big thing, don't let it go so easily. Manglam Anantara believes in satisfying your preferences. Buy a beautiful villa in Jaipur now and be a part of the Manglam family.