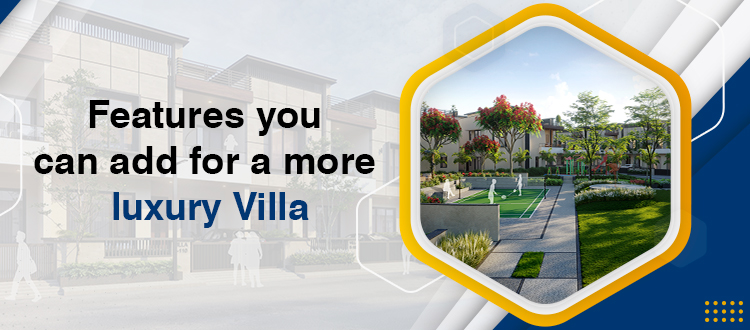 Features you can add for a more luxury villa
What makes a Villa a luxury villa: Design and layout.
Not really! There are so many features that you can add to your Villa to make it luxurious. To make the best of the best, you are required to add a culmination of opulent features. The designs and layout of 4 BHK villas in Jaipur at Manglam Anantara are designed in accordance with the ancient Shilpa Shastra and Vaastu. You can add many features to your dream villa to give it a deluxe appearance. Every feature defines luxury in a unique way and makes your home stand out from other luxurious villas.
Luxury brings to mind many different aspects: a big spacious living, rooftop pool,interior, etc. Manglam Anantara offers you a luxury villa that includesan unalike design and layout.
You can add some more features to your villa for a different appearance than others:
Smart Home Features:A smart home makes your home safe but also gives a luxury lavish ingredient to make your home luxurious. Smart Home feature is not limited to putting a camera at the entrance for security but many more things can be included. The smart home features that you can add to luxurious villas in Jaipur are a voice-controlled lighting system, a thermal detector, bathroom occupancy sensor, a voice recognition gate opening system, and many more. Smart home features can help you to relax in your luxury home.
Pool:A pool is not just for swimming but also helps you in relaxing. A louging pool at the terrace is an additional ingredient to give a premium look to Villa. A lounging pool isa place where you can spend time relaxing in the sun, reading books, and sipping your favorite drink. When the heat is too harsh to beat, take a cool dip in the pool and enjoy chilling. Along with this, you can also add a jacuzzi to give a more luxurious appearance.
Gym:It is said that health is wealth.Add a gym area in your Villa can fulfill this purpose. You will not only get a luxury lifestyle but a healthy lifestyle as well. You can have a separate Gym area in luxurious villas as they are spacious and a personal gym can make in any room.
Interior: Make your dream villa into a luxury one by adding exclusive interiorssuchas a walk-in closet, bench, and ottoman, hanging wall lights, bottle lights, chandelier, attractive designs on walls that can enhance the look manifold.Along with this, use royal furniture that also gives a feel of luxury and a premium place to live.
Personal Terrace Garden: When it's all about luxury, a personal terrace garden is the best thing. You can add a terrace garden and do some more creative decoration for a luxury advent. Private bubble, paint panel greens for camouflage effect, shade sail are some creative ideas for a personal terrace garden.
All these are special ingredients you can add to 4 BHK Villasin Jaipur to make it more luxurious. With all these features, a simple luxury villa can be turned into a royal luxury villa.