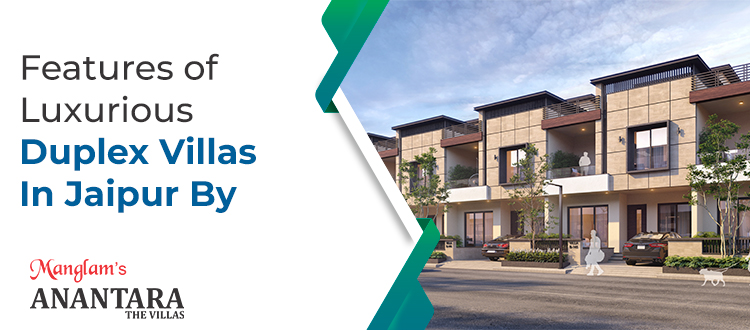 Features of Luxurious Duplex Villas In Jaipur By Manglam Anantara
A home represents the one who owns it. Thus, homes have always been a signature of standard for Indians.
A luxury house is something most people envision and aim to buy. In Jaipur, luxurious villas on Ajmer Road are one of the most sought-after properties.
But if you are planning to buy a villa in Jaipur, you need to understand what all features add up to make a villa truly luxurious.
7 Features That Define a Luxury Villa In Jaipur
Planning
The way a villa is planned and designed plays a huge role in determining its functionality as well as the quality of living. Thus before picking any villa in Jaipur, make sure the villa is thoughtfully planned to serve a comfortable and luxurious lifestyle.
Construction Quality
Your living experience greatly depends on the quality of materials the villa is constructed with. The construction quality determines the longevity of the villa along with determining that your money is invested in a promising property. While visiting the property, make sure the villa is constructed using the finest of materials.
Neighbourhood
A good neighbourhood is one on the top of the priority list of luxury property buyers. The 4 BHK luxurious villa on Ajmer Road not only offers a good neighbourhood but also gives residents a space that fosters a well developmental phase for their child.
Spaciousness
A luxurious living experience is a blend of amenities as well as a spacious living experience. Thus the villa you pick should qualify the criteria of availability of space to foster a luxurious life for you.
Security
This is the most important factor to keep in mind while investing in one of the villas on Ajmer Road. Your luxurious home requires to be equipped with all security measures. A home in a gated community is a plus which is beautifully delivered to you by Manglam Anantara.
Location
When we envision a luxurious life, what we see is a beautiful home in a scenic and serene environment away from the city. The 4 BHK luxury villas in Jaipur are located at a comfortable distance from the hustle-bustle of the city serving a great living experience for the residents.
Interior design
While looking for luxurious villas on Ajmer Road, make sure the interior of the villas is lavish. The interior design and architecture of the villa should make it look modern and luxurious.
To wind up, a luxurious villa is not truly luxurious until it matches all the above-mentioned features. Also, while investing in a 4 BHK luxurious villa in Jaipur, make sure it is a profitable investment.
Manglam Anantara offers one such property that offers beautiful and lavish villas that perfectly fit all the above-mentioned features of a luxurious home.