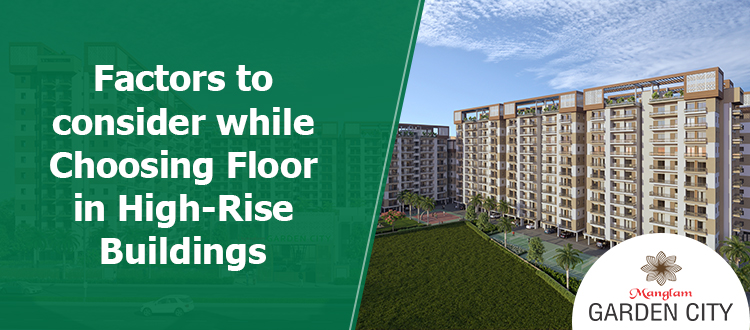 Factors to consider while Choosing Floor in High-Rise Buildings
When you are looking to buy flats in Jaipur in a high-rise residential apartment complex and are unsure which level would be ideal for you to live on, then this blog is for you. There are pros and cons to living on either the top or bottom level. Consider all of the options and choose the one that works best with your routine.
For a smooth home-buying process, consider the following tips provided by PropGuide:
View
More stories mean a greater view, particularly if the tower is situated in a picturesque area. To ensure this, it is recommended that you stay on the upper levels.
Returns on Rent
Surveys of residential properties have shown that lower floors are more desirable to renters because of the Indian preference for living near the ground. The ideal level of a high-rise building to purchase if you want to rent it out or use it as an investment is the bottom floor.
Privacy
It's possible that living on a lower level in a dense location won't provide much solitude. It may be preferable to stay on a higher level if you value your privacy and want to avoid any form of interference.
Noise
When looking for a place to live, many people choose apartments on higher levels so they can have some peace and be further away from the hustle and bustle of the street below or the common hallway below. You may not mind the noise if your ground-floor apartment is situated away from the building's main circulation areas, such as the stairwell, elevator lobby, and clubhouse.
Power consumption
Increasing altitude increases power consumption. The reason for this is that, during the summer months, you are more likely to spend time indoors with the air conditioning on. Water extraction with motor pumps is another potential power hog.
Safety
Apartments on the ground floor or lower levels are more vulnerable to criminal activity since they are simpler to break into. In the end, it all comes down to the design of your high-rise and the safety protocols enforced by the HOA.
Access
Most of us find that waiting for the elevator to arrive is a waste of time. If you have trouble using the stairs, look for an apartment on the ground or lower levels.
Regard for Members of One's Own
Having a property on a lower level is preferable if you have young children or elderly parents living with you. Not only does it make things safer, but it also makes them more convenient. Furthermore, if you or 00a family member has a fear of heights or a mobility limitation, you may find it more comfortable to live in a lower-rise building.
Access to natural light and fresh air
When opposed to upper-floor apartments, ground-floor units get less natural light and air circulation. Plus, there is no need to worry about swatting away mosquitoes since they can't reach the top levels.
Seepage of water
It has been seen that water seepage and drainage problems are more common on the ground and top floors. How well the residential complex drains and is kept clean is also an important factor.
Choosing an ideal floor for your 3 BHK in Jaipur would be easy when you go through all the factors that you need to analyze. If you choose Manglam Garden City then you can rule out many negative factors such as criminal activities. This is because it is a gated society and has all the latest security measures.